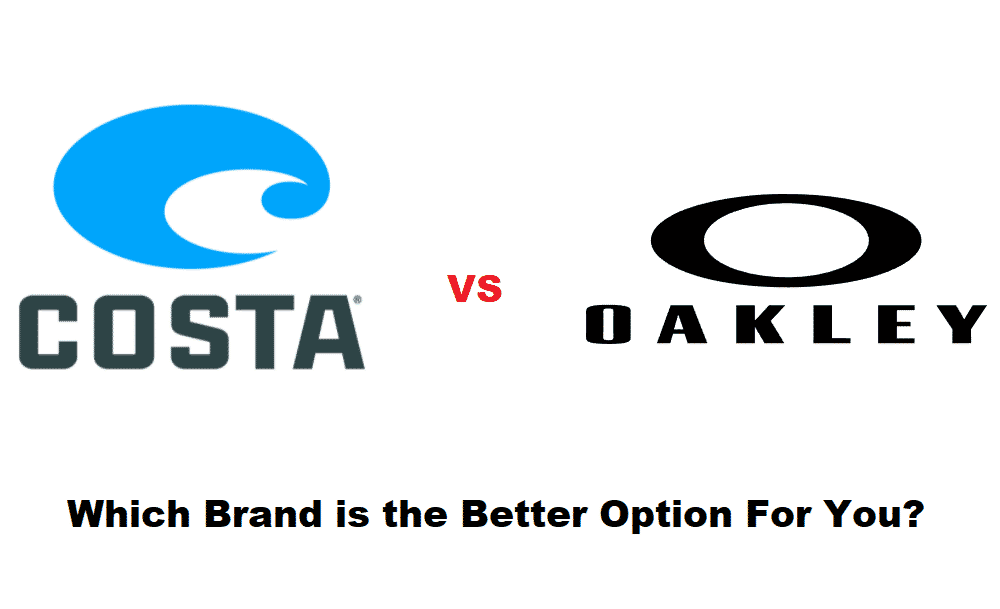 Having the right pair of sunglasses can help save your eyes from the UV rays. At present, the two brands that stand out from the competition are Costa and Oakley. Both brands bring a unique value to the table and offer exceptional quality to the customers.
Depending upon your personal preference, you can choose from a wide variety of sunglasses from these brands. Even though both of these brands offer top-quality glasses, we have noticed many people arguing about the better brand between Costa vs Oakley. So, to clear the confusion, we will be going over some differences. That way, you can easily decide whether or not a particular brand matches your requirement.
Costa vs Oakley
Costa
Costa is a brand primarily known for its fishing sunglasses. As compared to Oakley, this brand mainly focuses on producing eyewear for anglers. They have many decades of experience in this industry and recognize all the different things a person needs to make his fishing trip more comfortable. That is why Costa values comfort and eye protection above anything else. Costa glasses can be worn for a long time without feeling irritated.
It brings a new level of the anti-glare lens to the table that does not increase the clarity but also offers vibrant colors to the customers. However, we have noticed some customers bringing up issues about glasses getting damaged under rough conditions. So, depending upon your style of fishing, you should only go for Costa if your fishing doesn't involve any harsh practices.
If you need glasses specifically for fishing purposes, then most experts recommend Costa over Oakley. This is because of its bright colors and enhanced protection from the UV rays. Customers have also pointed out that the glasses don't seem to be uncomfortable even after hours of use. So, if this description matches your fishing trip, then Costa might be a better option for you.
Even though these glasses can withstand somewhat rough usage, their tenacity doesn't compare to Oakley. However, Costa overcomes this issue by offering excellent after-sale services to the customers. So, even if you run into some problem, just contact Costa, and they will fix the glasses for you. In most situations, you won't have to pay a dollar out of pocket.
So, as long as your usage is not rough and you need the glasses primarily for fishing purposes, then Costa is the best option. The price is somewhat comparable to Oakley, and you won't be saving that much money choosing one brand over the other.
Oakley
Unlike Costa, Oakley offers a wide range of eyewear ranging from fishing to sports and other outdoor activities. Specializing in so many things makes Oakley the ideal brand for people looking for glasses that can be used for multiple purposes. These glasses are pretty durable, and people have mentioned that the glasses remain scratch-free even if you are a little bit rough with them. These glasses will last you for an extended period without having to worry too much about their usage.
In terms of eye protection, Oakley performs just as well as the Costa sunglasses. However, when it comes to contrast and clarity, Costa outperforms Oakley at every stage. Luckily the difference is not substantial enough to impact your purchase decision that much. So, unless you're especially picky about the contrast of your sunglasses, Oakley will work perfectly for you. Aside from all these benefits, you can use these sunglasses for all kinds of sports without worrying too much.
These glasses won't break easily, and you can be as rough as you like. Other than that, Oakley offers a wide range of sunglasses depending upon the fishing style of a person. You can read up reviews for any particular lens you might have an interest in. That way, you will save yourself from a bad purchase.
All in all, both Costa and Oakley outperform most of the other brands in the market. Depending upon your usage, Costa provides better clarity and vibrant colors to the customers. Similarly, Oakley brings more durable and all-purpose sunglasses that can withstand rough usage. Aside from this, there is not much difference between the different designs. Hopefully, this information helps you make a better purchase decision regarding Costa vs Oakley.