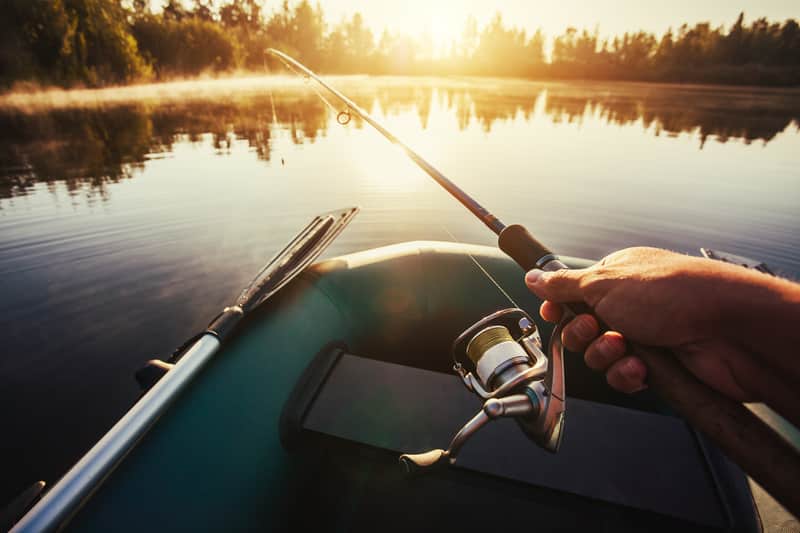 The primary reason why Jon Boats are so popular is the stable ride brought forward by these units. Usually, you will find that these boats are more effective in the shallower regions and don't perform as well in rough water conditions. So, you need to first evaluate the local fishing region before making the investment in a Jon Boat. Otherwise, the money will be wasted, and you won't get any performance reliability from the boat. The Field and Stream Sportsman 12 seems to be one of the more preferred units when it comes to Jon Boats. Let's cover a review on why so many anglers move towards Field and Stream Sportsman 12 for their fishing trip.
Field And Stream Sportsman 12 Review
The Field and Stream Sportsman 12 Jon boat is used by many anglers when it comes to covering smaller rivers and lakes. While it might not be equipped with the latest features and luxurious padding, you will get decent space for battery and equipment. Moreover, many anglers have said that this boat is stable enough for two people, which is pretty rare when you're browsing the 12 ft options. So, if you like to fish with a friend and the pierce point is a bit tight, go with Field and Stream Sportsman 12.
When sticking with this brand, you won't have any issues with the price point, and Field and Stream is famous in the market as a budget option. So, you shouldn't be too worried about the budget. The majority of owners with this boat move towards customization options to further enhance the comfort of the unit. The only limit is your imagination, and as long as you're sticking with one person on the boat, there isn't any need to concern yourself with stability issues.
The best thing about this boat is the portability, and the impact resistance brought forward by Field and Stream. It is pretty durable and will last for years if you put sufficient focus on its maintenance. It will cost around 700 dollars depending upon the dealer availability in your region. So, if this price point suits your budget, then there is no harm in going with Field and Stream.
The extra storage area on Field and Stream Sportsman 12 further encouraged many anglers to purchase this unit. Equipment storage has always been the top concern when it comes to Jon Boats. So, anglers were pretty happy when Field and Stream addressed this issue with phenomenal boats that were suitable for different water conditions.
Overall, the Field and Stream 12 is a lightweight and stable unit that is easy to transport. If you're into casual fishing or like to go out with your partner, then this Jon Boat will easily match your fishing requirements. However, it is not advised to stand up while fishing in this boat, and it is always better to have life vests on at all times. You should always expect to get wet at some point in time, especially if the water conditions are a bit rough.
How Does It Compare to Sun Dolphin?
Sun Dolphin has dominated the market for Jon boats for several years. When it comes to comfortability, it will always be the preferred option when compared with any other brand. So, if you're not too worried about the price point and can afford to go over the 1000-dollar price range, then Sun Dolphin is always the better option. It is pretty stable and brings carpeted decks as well as dry compartments for your equipment.
On the other hand, if you're not that willing to go over the 1000-dollar price point, then going with Field and Stream Sportsman 12 is the better choice. While both boats are pretty similar in terms of basic performance, Sportsman 12 lacks in the comfortability department. However, if you don't have the money for the Sun Dolphin unit, there is no harm in going with Sportsman 12. It is still better than the majority of other Jon Boats in the market. You can always upgrade to a better unit when you have the money, and it won't be too hard to secure a nice resale price on the second-hand market. So, make the final decision according to the budget.