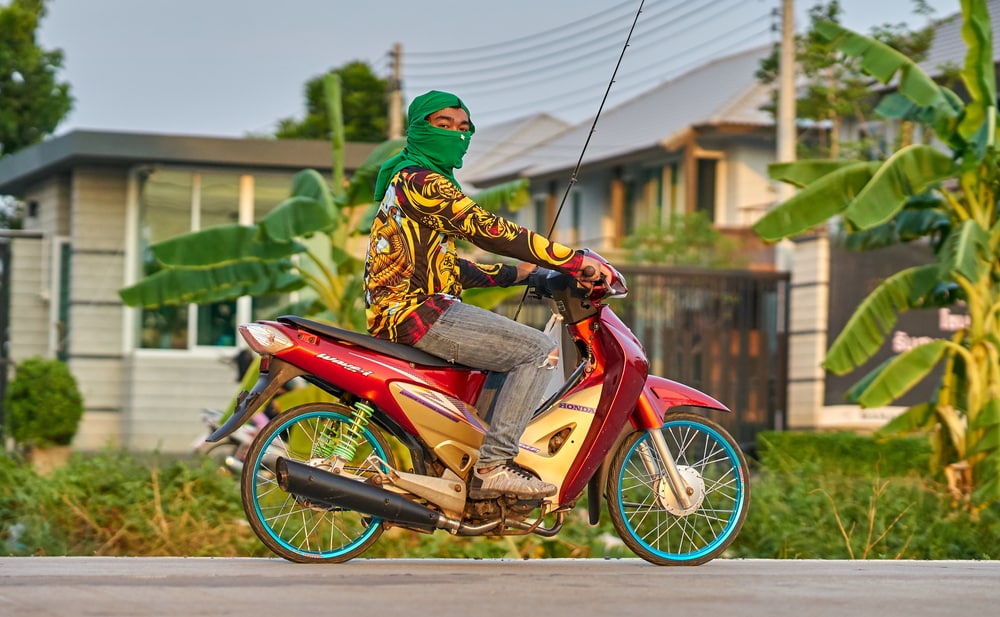 Traveling is always one of the most important factors that you have to account for when buying new fishing equipment. Even though there are a ton of fishing rods that bring exceptional fishing performance to the owners, they get damaged pretty easily during transportation. So, there is no point in putting money into a rod that is hard to travel with. While the market is filled with fishing rod holders for cars, you will struggle to find a decent option for your motorcycles. This segment is a bit neglected at the moment, but you can always create a rod holder yourself. So, the following list of fishing rod holders for motorcycles should help you find the perfect fit for your trip.
6 Recommended Fishing Rod Holders For Motorcycles
1. Sea Striker Mount
Even though the Sea Striker Mount is meant to be installed on bikes, you can easily install it on the back of your motorcycle. The pricing on this unit is pretty affordable, and you will get two-rod holders with Sea Striker Mount. The best thing about this mount is that it will barely take 10 minutes to install it on your motorcycle. So, if you're looking for a mount that can hold multiple rods as you find a better fishing spot, then Sea Striker should be your first pick.
2. Quad Boss Rod Holder
This rod holder is compatible with the majority of motorcycles, ATVs, and even UTVs. The structure of this rod holder is much better than the Sea Striker mount, but you will have to pay a bit more for this option. The good thing about the Quad Boss Rod Holder is that you can either go with a single or double setup for your motorcycle. So, depending upon your equipment requirements, there is no harm in testing out both fishing options.
3. All-Rite Rod Holder
Similar to Quad Boss Rod Holder, you will get the same clamp-on structure as All-Rite Rod Holder. However, you can't buy any double rod holder variants from this option, and the pricing is a bit more reasonable. Customers have pointed out this option to be easier to install, and the quality of clam is much better. So, if you're only going with a single spinning rod, it might be better to go with an All-Rite Rod holder over the Quad Boss Rod Holder.
4. Bike Fisherman Mount
This product is also primarily meant for bikes, but you can get creative with this product and install it on your motorcycle pretty easily. While the use of additional straps and limited space between the rod holders is not ideal, this mount will keep your equipment safe during transport. So, if you like to switch fishing spots pretty frequently, then going with the Bike Fisherman mount is not a bad choice.
5. Use PVC Pipe
The most common solution that most motorcycle owners use is PVC pipes. These might seem like they won't serve well in practical situations, but you will get amazing fishing results with these pipes. So, if you have a bit of time and don't mind a DIY project, then making use of some PVC pipes and tape will help you create just the perfect rod holder for your bike.
Even if you're not experienced, hiring a general contractor will help you get through the project with ease. So, get yourself a PVC pipe and install it on the back of your bike after cutting the tube accordingly. This will save you a fair bit of money, and you won't have to worry about the compatibility of the rod holder with your motorcycle.
6. Try Clamps
Some anglers have also mentioned good results while making use of clams to secure the fishing rod to their bikes. The clamps are much easier to manage when compared with the PVC pipes, but the risk of your rods getting damaged is higher with this option. So, keep that in mind if you're not that thrilled about using a PVC pipe and would go with a clamp instead.
In most situations, Sea Striker and All-Rite mounts should be enough to help you with the transportation of your rods. However, if you're struggling to find a fishing rod holder that is compatible with your motorcycle, then the only solution is to create one yourself.