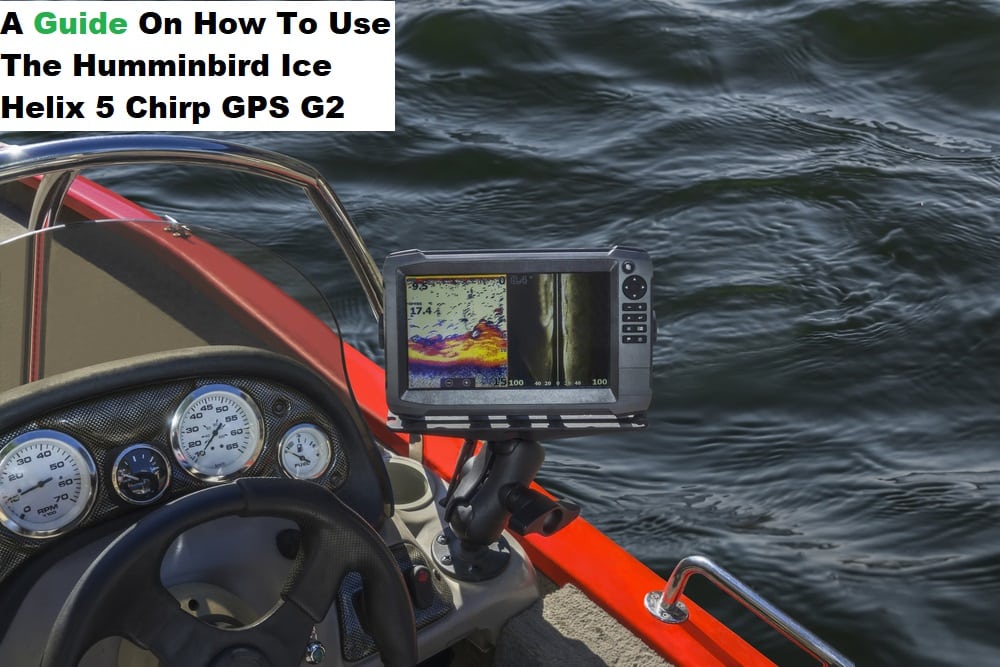 With adjustable zoom and jig charger modes, you will get the ideal fish-finding performance from Ice Helix 5. This compact device from Humminbird might not be the cheapest, but when it comes to an extensive list of features, it has got you covered with the most robust performance on the market. So, if you can make your budget a bit flexible, then going with Humminbird Ice Helix 5 Chirp will serve you perfectly. While the extensive list of features might sound amazing, you will still have to learn some basics on how to best use the Humminbird Helix 5 Chirp GPS G2. So, here are some specifics on this model from Humminbird.
How To Use The Humminbird Ice Helix 5 Chirp GPS G2 
Even though this unit is pretty versatile, the majority of anglers use this system for ice fishing. It is incredibly efficient when it comes to ice fishing, and here are some steps that will help you use Humminbird Ice Helix 5 Chirp GPS G2 for ice fishing.
To start, you just have to press the menu button twice and then browse to the sonar settings to turn on the ice fishing mode. This will reboot the device after asking for your confirmation, and you'll have to wait a few seconds for the device to restart. Just make sure that the ice transducer is plugged in as you switch to the ice mode.
At this stage, you have to adjust the gain, range, depth reading, and frequency to match your local water conditions. Press the menu button on the sonar screen to further access chart settings and increase the chart speed to ultra to make use of updated information.
Once the basic range and frequency are set up, you can also update the color settings to match your preferences. Most users prefer to stick with a black background and orange bands to easily detect the jig when you're ice fishing. However, you can also try the white background for a clearer detection of your jig.
Now, you can enable the Chirp IR settings on the Humminbird Ice Helix 5 Chirp GPS G2 to block out interference from other systems. So, if there is a lot of clutter on your screen, try to make sure that this feature is turned on.
Lastly, you just have to cast your jig and check its location on the projected graph. If your settings are optimized, it shouldn't be that hard to detect the jig right away on the chart. However, if the jig is not appearing on the Ice Helix system, then you need to tweak your settings more.
These are a few steps that you need to follow to use the Humminbird Ice Helix 5 Chirp GPS G2 for ice fishing. It will take some time, and you should be experimenting with different settings to get a better hang of these features. So, try to either get help from a local expert or test out different ranges for yourself before you stick to the final configurations on your Humminbird Ice Helix system.