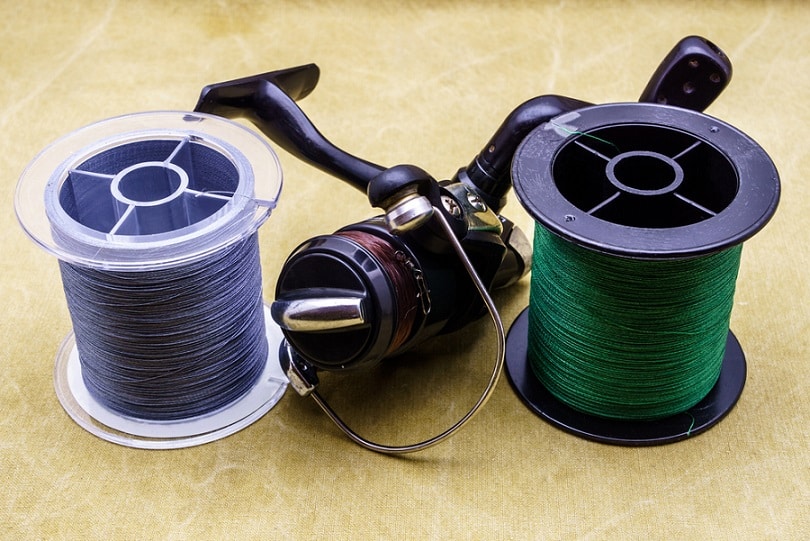 If you're in the market for durable fishing lines that can help you get through even the most demanding fishing systems, then Spiderwire is the only real option in the market. Even though many users mention PowerPro to be the better choice because of the affordable price, it doesn't even come close to the performance of lineups from Spiderwire. So, if you're in the market for new fishing lines, Spiderwire is the brand for you. Anglers often like to compare two of the most effective fishing lines from the brand, Spiderwire Invisi-Braid, and Spiderwire Stealth. Both of these options are pretty awesome and will fit right into your fishing system. So, here are some specifics on Spiderwire Invisi-Braid vs Stealth.
Spiderwire Invisi-Braid vs Stealth Comparison
Spiderwire Invisi-Braid
The Invisi-Braid from Spiderwire is known for its clear color and works best while you're trying to blend the line with the water. It is incredibly lightweight and durable. Even when you're going after larger fish in saltwater, there won't be any need to concern yourself with this fishing line breaking. It is primarily marketed for its strength, and you will get much better fishing results while sticking with a heavier setup. So, you should first judge the requirements of your fishing rod and the local fishing range before putting money into the fishing line.
The main difference between Spiderwire Invisi-Braid and Stealth is that you will get far better strength from Invisi-Braid. It will cost you a fair bit more than the Stealth line depending upon the weight you're aiming for. So, keep that in mind if you're looking for a fishing line that performs well in rougher conditions and blends well with the water.
The color differences and the visibility aspect of both Stealth and Invisi-Braid are almost identical. According to many anglers, you won't get any additional benefit of low visibility by choosing one line over the other. So, instead of basing the decision on the visibility aspect, you should consider the strength requirements of the system.
Overall, Spiderwire Invisi-Braid is more expensive and better suited for heavier setups that can't risk line failure. If you're fishing in a stable water condition, and don't want to put any extra money on the fishing line, then going with Stealth is a good choice. The majority of anglers struggle to justify the jump in price for the Invisi-Braid as the casting performance and the smoothness of both lines are identical. So, if you're in the same situation, and don't have to fish in rough conditions, then Stealth is good for you.
Spiderwire Stealth
When you look at the market, the Spiderwire Stealth will come on top as the more popular option. All of this popularity can be attributed to better pricing, and you will get amazing fishing results as long as you're sticking with a stable region. It is just as good as the Spiderwire Invisi-Braid when you're considering the visibility, casting smoothness, and reeling experience. However, the strength of this line is slightly less than Spiderwire Invisi-braid.
This slight difference in strength doesn't justify the huge difference in price for most anglers. For this reason, you will notice the majority of users relying on Spiderwire Stealth for their fishing adventures. If you're also not into sports fishing and require a casual and efficient setup to fish in freshwater, then going with Stealth will save you a lot of money.
On the other hand, if you're planning on fishing in extreme conditions and can't risk the chances of the fishing line breaking during a fight, then you will get better results from Spiderwire Invisi-braid. It all comes down to your requirements, and depending upon the water conditions, the preferences can change.
Overall, going with Spiderwire Stealth will save you a fair bit of money, and you will get the same experience in the light to medium range. The lighter weight of both fishing lines makes them easier to maneuver, but sometimes they can form knots. So, if the weather is a bit windy, you will need to be careful about casting the line. Make sure to test out a few casts on a Spiderwire Invisi-Braid and Stealth setup to get a better understanding of their performance.