When we see the Humminbird brand, we usually get thrilled since these people are recognized for manufacturing some of the most excellent fish finders on the market.
The company has a huge list of devices that you can go through which confuses most users at first.
The best way to find a reliable fish finder is by visiting the official website of this brand. This should provide you with all the devices available and you can then go through this one by one.
If there is any model that you are interested in then clicking on it should show you its specifications.
Piranhamaz 4 DI is a tremendous entry-level fish detector since it provides the essentials without a ton of frills and whistles are this model. This has been gaining a lot of popularity recently because of its list of different settings.
Let's take a closer look at the Humminbird Piranhamax  DI 4 most essential features.
Going through these should help people in understanding how amazing the fish detector is. Additionally, it should help users in learning how they can access the different features on their devices.
Make sure that you go through all the steps provided carefully before making a decision.
Best Settings For Humminbird Piranhamax DI 4?
Display On Fish Finder
With a 12 percent increase in screen size and 70 percent more pixels in the PiranhaMAX series, it is impossible to overstate how much easier it is to watch the display.
Even though the device has gotten bigger, it only weighs 2 pounds.
This makes it suitable for small boats and kayaks, where space is often limited. If your screen has a backlight, you can read it in any weather, including rain, fog, and darkness.
There are a few ways to change how it looks to make it easier for you to read.
You can zoom in on certain parts of the sonar return to get a better reading, and you can increase the contrast between the colors to make the bright and dark parts of the sonar more obvious.
With this device's Whiteline feature, you can switch out one of the colors for white to make a strong contrast.
When fishing for fish that eat the bottom, you can replace the hard bottom with a white line, which will make the fish much easier to see.
The different features on the display can take some time to get used to but it is best that you practice using them before your trip.
This should help you in understanding how the display functions and how it can be calibrated.
The process should ensure that people can catch varieties easily while utilizing all the features on their new Humminbird Piranhamax DI 4 fish finder.
Sonar On Fish Finder
Due to the DualBeam sonar, you can view the bottom clearly with a 16° wide 455 kHz cone and a 28° wide 200 kHz cone on this instrument.
Sonar returns will be shown in various colors depending on their power. The color blue denotes low returns, the color yellow indicates medium returns, and the color red represents high returns.
The WhiteLine feature is essential since the ground is constantly red.
Sonar reading is a skill that requires some practice but doesn't worry; it will become second nature to you in no time. For the time being, we advise you to use the Fish ID+ function on the device.
When the sonar detects what it believes to be a fish, this handy function substitutes small fish symbols for the sonar picture on the screen.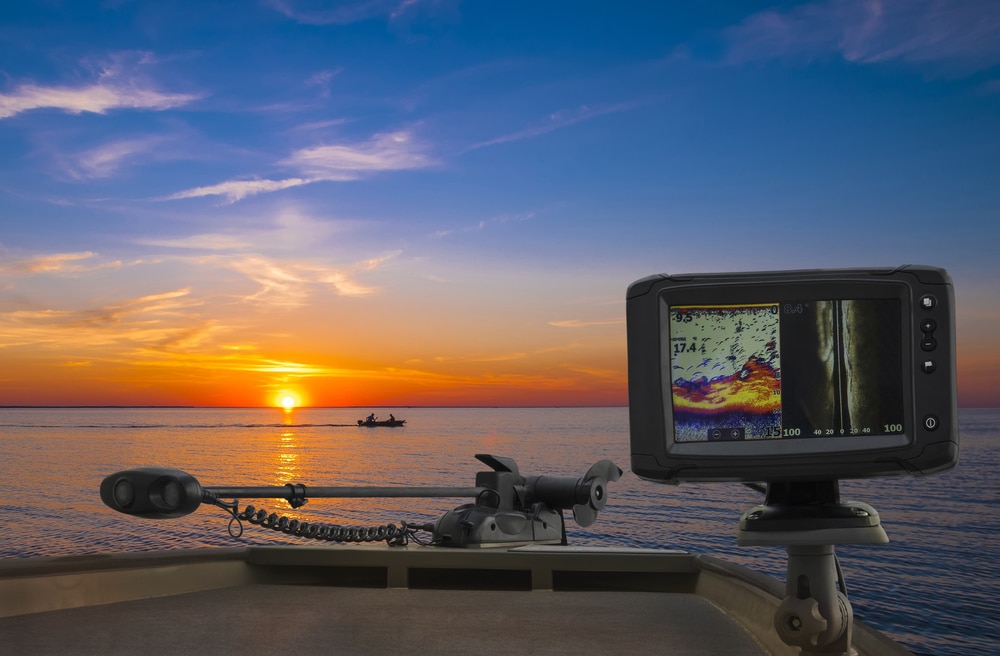 To help you avoid the smaller fish, the characters are scaled up or down according to the size of the fish.
This shows how powerful the sonar is and how useful it can be for your fishing trips. Keep in mind that the sonar also helps people in noticing if there is any disturbance in the water body they are traveling over.
This can be used to quickly change your position before any waves come up.
Aside from this, the sonar is also equipped with Dual Beam Sonar technology. This allows the device to switch its beam depending on your usage.
People have the option to select between a wide or narrow beam while they are moving around, trying to find fish.
The different sonar settings allow users to switch between a wider area of coverage that has a lower range, alternatively, you can select a narrow beam that has a better range but a lower area of coverage.
Make sure that you test around with this feature for the best results.
Three Alarms Feature On Fish Finder
You don't want to miss a bite when you're out at sea. Even though the fishing isn't excellent, your mind may wander, and fish may pass you by if it does. That's where the Fish Alert comes in.
It's the first alarm on our handy little device. When the transducer finds a fish, the Fish Alarm will go off.
You can tell the notice what size it needs to be to go of small, medium, or significant. If you want to catch a big fish, you can set the dial to "big" and prepare for a day full of action.
Simply put, the Depth Alarm goes off when the sonar reaches or goes below a certain depth.
If you've been fishing all day, the Battery Alarm will let you know when your fish finder's battery is getting low. The Piranhamax 4 di is an excellent value for the money. It's lightweight, portable, simple, and easy to read.
It's ideal for small boats like kayaks and canoes, and it's a terrific place to start a new activity.
Down imaging and CHIRP sonar are available for those who are prepared to pay a little more, but the Piranhamax 4 di is the best compact fish detector on the market.
1-Year Limited Warranty Service On Device
There are several other smaller features on the device that can be utilized by anglers. This includes the swivel and tilts mount that quickly allows people to change the viewing angle of their fish finder.
On top of this "Down Imaging" is another great feature that allows users to look out for rocks in their way.
Visiting the official website for Humminbird should allow people to go through all the specifications for this fish finder. This should also allow them to understand all of the other features present on the device.
Though, one more feature that you should know about is the warranty service.
The 1-year limited warranty on the device is one of the best things that you can get. This allows people to get free repairs and replacements on the device for an entire year.
The only thing that you need to do is contact the support team in case of any problems with the fish finder.
They will then ask you to send the device back to them and will get it repaired for you. Keep in mind that the fish finder is known for being durable so there is a high chance that you won't run into any issues with it.
Though, having a security feature like this can still be great on an expensive device.
Keep in mind that the troubleshooting steps provided by the brand are usually enough to fix most problems with a fish finder like this.
However, it is recommended that you keep your device maintained as it will ensure that it lasts you several years without having to worry about any problems.