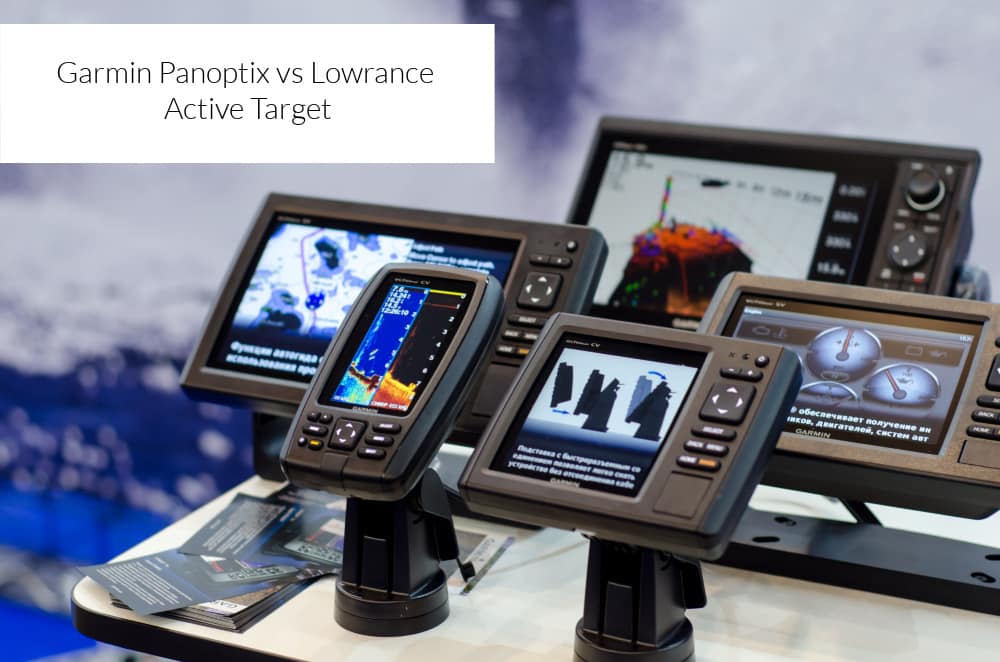 Garmin is one of the most well-known names in the industry of fish finders as well as one of the most well-known companies in the market for fishing equipment overall. Garmin was first introduced to the market in 1989 under the name ProNav. Since then, the company has completely transformed the way fishing technology is used. Fish finders and other electronic equipment manufactured by Garmin may be purchased in approximately 40 different countries across the globe. Garmin technology is used by anglers who fish in ice, freshwater, and even saltwater environments. We have covered some of the characteristics of the Garmin Panoptix and the Lowrance Active Target in this post, including the following:
Garmin Panoptix vs Lowrance Active Target:
Garmin Panoptix
Near-real-time pictures and a variety of display unit choices make the Garmin Panoptix Livescope fish detector an ideal choice for anglers. If you're looking to replace your current technology, the Garmin Livescope is one of the best options on the market. Garmin Livescope fishfinder technology is intended to provide a consistent flow of real-time scanning sonar pings for high-quality live imaging of fish in your favorite fishing spot. Most recreational anglers aren't very interested in learning about the workings of live sonar. Fish finders that function and give clear, easy-to-understand images are all that matter to these anglers.
With Panoptix Livescope technology, you may get a real-time feed to your displays showing a complete view of fish movement while using a continuous sonar feed, such as that supplied by that technology. Several users have compared the display gadget to an underwater camera rather than a fish finder because of its continuous visual input. Even while many other fish finders claim to provide real-time pictures, this is generally only true for a few seconds at most.
Using the Garmin Livescope transducer, you can see fish swimming in real time as if they were captured on camera. The size of the school and the direction in which the fish are moving will all be visible to you. In addition, you'll be able to see underwater structures and dense cover areas where fish hide, as well as where your bait has dropped in the ocean. Fishermen who have a real-time view of exactly what fish are doing underwater may make the difference between a decent fishing trip and a terrific fishing trip when they capture that next trophy fish." Depending on where you're fishing or what kind of fish you're after, the Garmin Livescope fish finder offers a number of different ways to see what you're seeing. With a complete sidescan view and sonar images, you will be able to see anything that is around your boat. Using a good side scanner when trolling in murky coastal waters will help you locate where fish could be lurking.
Lowrance Active Target
Anglers using the Lowrance ActiveTarget Live Sonar can observe the underwater environment in three ways: forward, down, or scout. In a practical sense, this provides fishers with an advantage over the animals they hunt. Active mapping is another real-time feature that gives you the ability to chart your contours by superimposing depth contours on top of your chart that is based on live sonar data. People who fish in rivers and reefs that have not been surveyed will find this capability to be beneficial.
When compared to its predecessor, the active imaging 3-in-1 transducer allows anglers to see farther and with more clarity than ever before. In addition, all imagery from Lowrance may now be seen on a single screen, including structure scan 3D, down-scan, and side-scan images. This gives anglers the ability to utilize two different chirp frequencies on the same screen, which adds a new layer of complexity to the activity of fishing.
In order to manage the real-time active imaging and live sight transducers that come with the new transducers, Lowrance has updated its central processing unit to one with two cores. It renders an image that is fluid and responsive on the device without introducing any delay. Any angler would benefit significantly from having the Lowrance ActiveTarget Live Sonar at their disposal. There are high-performance processors, three different view options, and high-resolution live photographs of the activity of the fish and the bait included.