There are many products in the market that will make your life as a boater easier. One of the most useful products that you can buy for your boat is Salt-Away.
It is known for removing salts from your boat's components and maintaining the system's efficiency.
So, if you're struggling to manage the efficiency of the boat because of excessive build-up, then spending a few dollars on Salt-Away is your best option.
You will often notice people comparing the performance of Salt Away vs Vinegar on online forums.
If you're also wondering about the unique aspects of both these products, let's cover them in detail. The information provided below should help most people in understanding how these products vary from each other.
While the differences might seem obvious to some users, there are also similarities.
This is the main reason why you will notice so many people get confused when trying to make a decision. If you are having the same issue, then this article should help you out in the long run.
Keeping your requirements in mind is also important as your choice might vary from other users.
Salt-Away vs Vinegar: Engine Flush Comparison
| | | |
| --- | --- | --- |
| Salt Removing Products | Salt-Away | Vinegar |
| Ease Of Use | Beginner Friendly | Can Be Difficult To Use |
| Price Of Product | Expensive In Comparison | Cheaper In Comparison |
| Effect On Engine Performance | No Effect On Performance | Can Lower Performance |
| Water Requirement | Should Be Mixed With Water | Should Be Mixed With Water |
Salt-Away
Salt-Away is one of the best products that you can buy to keep your boat clean and maintained . Experts have pointed out that Salt-Away is much better for your boat.
You don't have to worry about long-term negative effects while using Salt-Away.
This product provides an ideal mix of chemicals that are quite effective for removing salt from your engine and boat. So, if you're looking for something to clean your boat with, Salt-Away should be your first option.
It is true that this product can be more expensive when compared with the Vinegar substitute. However, you won't have to worry about managing the pH to keep your boat in perfect shape .
Salt-Away won't have negative impacts on your system as long as you're following the mentioned instructions.
Make sure that the solution has an adequate mix of water and then run it through the system for optimal performance. This product is beginner-friendly and will keep your boat safe for many years.
On the other hand, if you use Vinegar on your boat without any background knowledge, it can cause severe damage to your system.
So, even if you have to spend a few extra bucks, it is better to go for the safer option to keep your boat in perfect shape.
All in all, Salt-Away is the most practical option for boaters when it comes to cleaning products. The acidic levels in Vinegar are too high, and it is recommended by experts that beginners avoid using Vinegar for cleaning purposes.
Following these instructions will help extend the life span of your boat.
So, if you don't have a budget issue, then going for Salt-Away is a better option for your boat. While it is usually simple for most people to understand how the product can be used, you will still notice people getting confused about this.
If you are having the same issue, then there are two simple things that can be tried. The first solution is using the manual provided along your Salt-Away, while the second option is going for the guide provided on the website.
The official website has several links that can help you out. These include guides on how the product can be used. Aside from this, you can also contact the brand in case you have any further questions in mind.
The team will try their best to answer all of these so that problems can be avoided.
Vinegar
Vinegar might seem like a more cost-effective option when compared to Salt-Away, but you won't be able to achieve the required performance through this alternative.
It is true that Vinegar will remove the salt from your engine components and boat.
However, leaving acidic residue on the engine is far more destructive to the components of the unit. If you want to remain on the safe side, then it is better just to use Salt-Away.
Some beginners believe that washing the components after applying vinegar fixes the corrosion issue.
However, that is not the case. Using water will not fix your issue if there is an acidic residue left on the engine components. To fix the residue issue, you will need to use an equally basic solution to neutralize the residue.
So, if you're not sure about how to make an ideal solution with minimal acidic effects, then it is better to stay away from using Vinegar.
Using Vinegar will not only decrease the life span of the engine, but you will also get poor cleaning performance from this solution.
You can't make the purchase decision based solely on the price point. If you can't think long-term, then it would be quite challenging to maintain the engine performance as well as boat efficiency.
With that said, you should always choose Salt-Away, and avoid self-made vinegar solutions.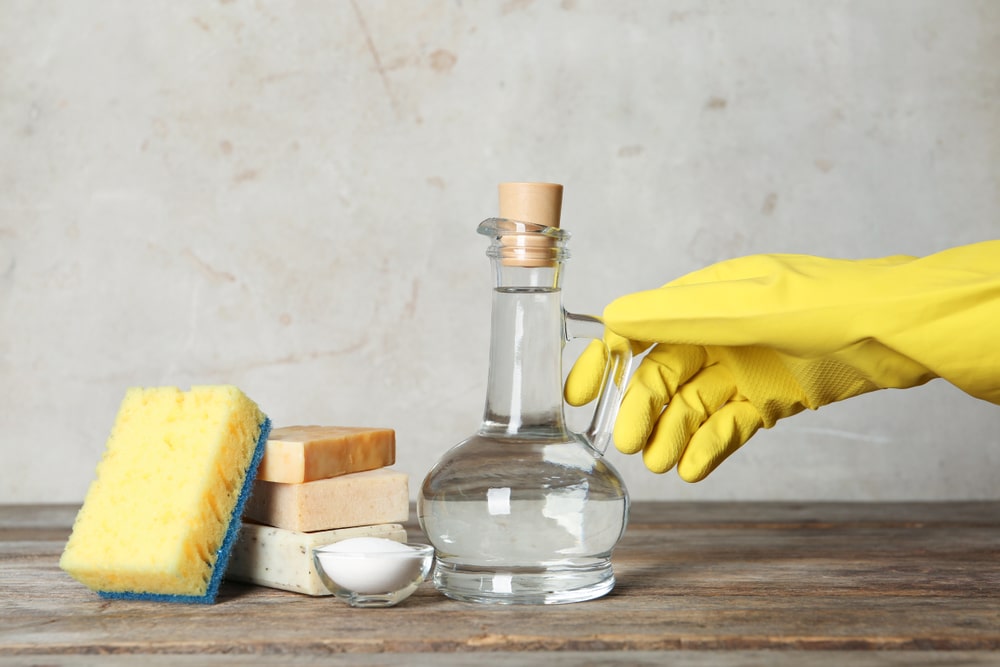 The only situation where you can use the vinegar solution is when you know how to neutralize the acidic residue left on the components. You can either refer to experts or do a bit of research online.
This will help you get a better understanding of balanced solutions.
That way, you can avoid damaging the components of your boat while trying to clean the salt from the engine components.
Hopefully, this helps you minimize the cost of cleaning products while maintaining the performance of your boat.
Getting back to vinegar, you should note that the solution of water and vinegar can be great in some cases. This includes using the solution if you are having corrosion issues with the battery.
Alternatively, some wires might have formed rust on them that can be cleaned.
These simple troubleshooting steps can often allow people to fix major problems and using vinegar can be better as you don't have to waste the Salt-Away product.
However, it is mostly recommended that you still purchase that solution as it will always be better when using it on your engine.
The only case where someone will not buy this product is if they are having trouble trying to purchase it. This can either be because the product is out of stock or if they have a low budget.
With that being said, the information provided above should be enough for most people to make a decision.