Choosing the right engine for your boat can be one of the most confusing parts of completing your unit. Brands like Honda and Yamaha have dominated the market for many years.
You won't ever be able to find a better brand when it comes to reliability and performance on rough waters.
The only thing that might be a bit discouraging about these systems is that they are a bit expensive. However, you will be able to get amazing results with these units when you consider the long-term impact of this system.
So, be sure to stick with Honda and Yamaha for your fishing trip.
Similarly, anglers often seem confused about which brand to choose. From the price point to the overall efficiency, there are multiple factors that users have to consider before making a purchase decision.
So, it is best to seek expert opinions and reach out to local anglers and dealers. Recently many people seemed confused about Honda 250 VS the Yamaha 250 outboard engines.
If you're also unsure about which one to choose, the following information should help you decide.
Honda 250 vs Yamaha 250: Outboard Engines Comparison
| | | |
| --- | --- | --- |
| Specifics  | Honda 250  | Yamaha 250 |
| Full Throttle RPM Range | 5300 – 6300 | 5000 – 6000 |
| Bore X Stroke  | 89 x 96 mm | 96 x 96 mm |
| Fuel Injection | Programmed | EFI |
| Weight  | 276 KG | 250 KG |
| Alternator  | 90 Amp | 50 – 70 Amp |
In certain situations, you won't even be able to tell the difference between the performance of these brands.
Both of these units are phenomenal and bring years of consistent performance to the owners. So, if you're new to the market and can't seem to find the right fit, either one of these will serve you well.
On the other hand, if you're looking for a highly specialized unit, then the minor differences here can impact the purchase decision. So, you should first start by judging the operating conditions as well as your requirements from the unit.
If you're working with a larger boat and need a more robust system that ignores minor issues with the power output, then Honda is the real option here.
This unit is undoubtedly more robust but can be a bit noisy at times. You will struggle to keep up with the noise levels brought forward by this unit.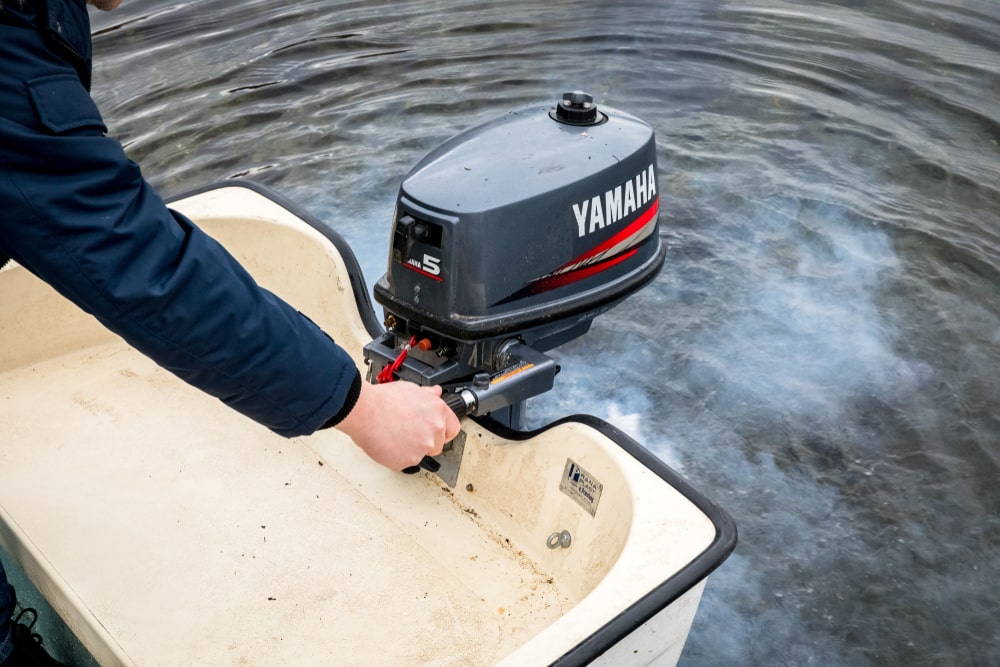 Similarly, the Yamaha system will present you with a quieter presence and a far more efficient system that can last you for years. So, if you're new to the market and not sold on the idea of spending your money on a noisy unit, then Yamaha is for you.
You will be compromising a bit on the RPM and the generated power, but the efficiency is far better here. This unit is more compatible with a limited budget, and you won't feel the need to change to a different unit when engaging with Yamaha systems.
It all comes down to how you're planning on maneuvering through the situation, and these minor differences shouldn't matter much if you're a casual angler.
Here are more details on the Honda and the Yamaha Outboard. 
Honda 250 Outboard
While both Yamaha and Honda bring close competition to the table, there are a few aspects that differentiate Honda from Yamaha.
The acceleration and the lift of the Honda outboard engine are exceptional, but Yamaha brings a slightly better efficiency when you compare them side by side.
It is true that the difference is quite minimal, and it will be pretty hard to notice when the engine is under pressure. So, this shouldn't affect your purchase decision that much.
The slightly reduced power from the Yamaha engines can be traced back to the lighter weight of these engines.
So, even though you're not getting an exceptional lift from the Yamaha engine, it will provide you with incredible efficiency when compared with Honda.
Most of the time, weight and lift are two of the most important factors that you need to consider while buying an outboard engine. However, keeping noise levels under consideration is also a good idea.
The differences in noise levels between Honda and Yamaha are quite minimal. But, some experts have pointed out slightly reduced noise coming from the Yamaha engine.
So, if you can't afford loud engines on your boat, then going with Yamaha should be a better option. Hopefully, these factors will make it easier for you to make a purchase decision.
All in all, the Honda engine brings an incredible amount of utility to the table. It is true that in some aspects, Yamaha can be better than Honda.
But the difference between the performance and noise is not substantial enough to impact your purchase decision.
It will be quite hard to tell the difference in noise as well as power when you're running the engine under load. So, keep that in mind before buying an outboard engine.
Yamaha 250 Outboard
With decades of history in the industry, Yamaha has been creating top-tier engines for a variety of customers. When you talk about options and variety, Yamaha comes out on top.
It offers a complete range of 2 strokes and four-stroke engines for customers across the globe.
These engines are known for their efficiency as well as the lift they bring to your boat. Even though Honda provides close competition, Yamaha has still maintained a slight lead in some aspects of an outboard engine.
The Yamaha engines are quieter but do bring a bulkier structure to the anglers. So, depending upon these factors, you can decide whether or not you want a bulky engine on your boat. 
While choosing Yamaha, you won't have to worry about reduced performance due to the added load.
The efficiency increase from this engine is substantial enough to overcome most of the weight issues that you might expect on a standard fishing trip.
This engine is truly exceptional and maintains a good reputation among anglers across the globe.
Brands like Honda do bring an amazing lineup to compete with Yamaha, but minor differences in different aspects add up to a substantial increase in the value proposition.
So, if you're looking for an engine with more efficiency and acceleration, Yamaha should be your first option.
With that said, most people just look toward the price point before choosing between either one of these two brands.
Casual anglers don't concern themselves with the slight increase in the performance of the engine. They prefer the option that better suits their budget.
So, if you're also struggling to set aside some money, it might be a better decision to choose the engine that better suits your budget. You won't be able to tell the difference in performance when you are under load.
Wrapping Up
These were some details on the Yamaha 250 and the Honda 250 outboard. You won't be wrong to say that there are more similarities than differences between these brands. So, be sure to stick with Yamaha or Honda when you can't seem to find the right fit.
In most conditions, beginners like to stick with Yamaha, while the more experienced anglers will choose Honda for their fishing trips.
However, that is not set in stone and if the water conditions are a bit calmer in your region, going with Yamaha is the better idea.
You should always prioritize the water conditions as well as the operating environment over the budget.
There is no point in going with Yamaha when you need more RPMs, and you can't risk going with its quieter presence. So, be sure to keep that in mind and first judge the operating conditions.
If you can't seem to figure those out for yourself, then reaching out to the dealer is a good idea. He will point you in the right direction after you list the requirements as well as the water conditions.
Moreover, you can further demand more options that are suited to your budget and will improve your system.