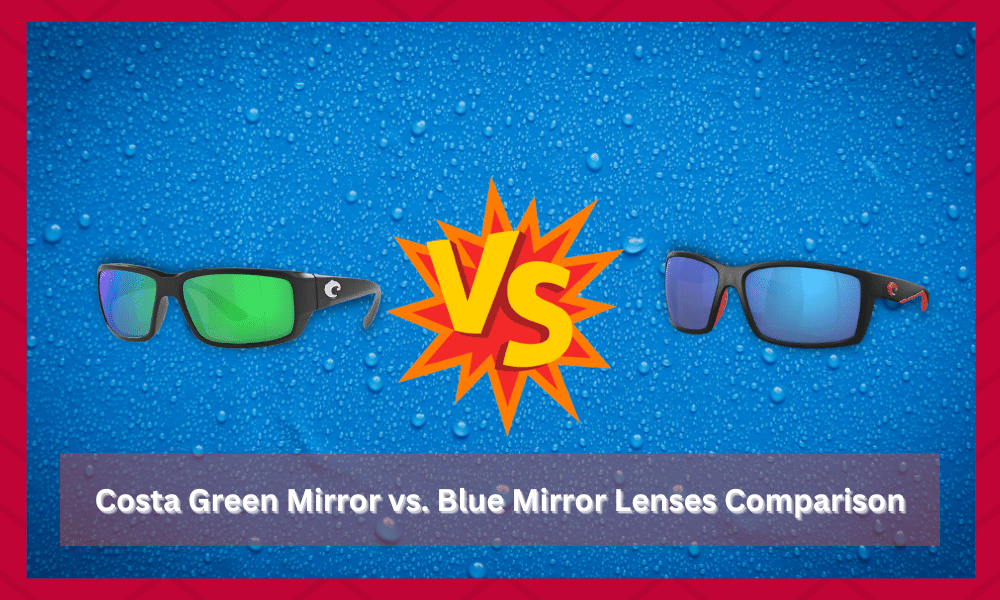 It can be pretty difficult to find a fishing lens that provides a perfect balance between protection and visibility. This is why Costa offers a wide range of fishing lenses that protect anglers in different water conditions.
Depending on your region's water conditions, ask local experts about the best fishing lens that matches the environment. That way, you can make an informed decision about which fishing lens to choose.
Many anglers have been asking about the Costa green mirror vs. blue mirror lenses lately. If you're also interested in these products, let's cover them briefly to help you make a better purchase decision.
Costa Green Mirror vs. Blue Mirror Lenses Comparison
Costa Green Mirror
This is your ideal product if you like freshwater fishing or near-shore fishing. Aside from the unique aesthetics, it brings a good amount of contrast to improve your visibility.
This fishing lens makes it easier for anglers to clearly see the water and manage their position accordingly to improve the catch rate.
If this description matches your fishing situation, then Costa Green Mirror might just be the perfect glasses for you. These fishing lenses come in various styles and enable customers with multiple options.
The biggest difference between this fishing lens and the blue mirror is that the Green Mirror Costa fishing lenses offer more contrast when you're near the shore.
You don't have to focus as much to track your catch in the middle of a fight. Aside from that, the green mirror lenses block just as much light as the blue ones.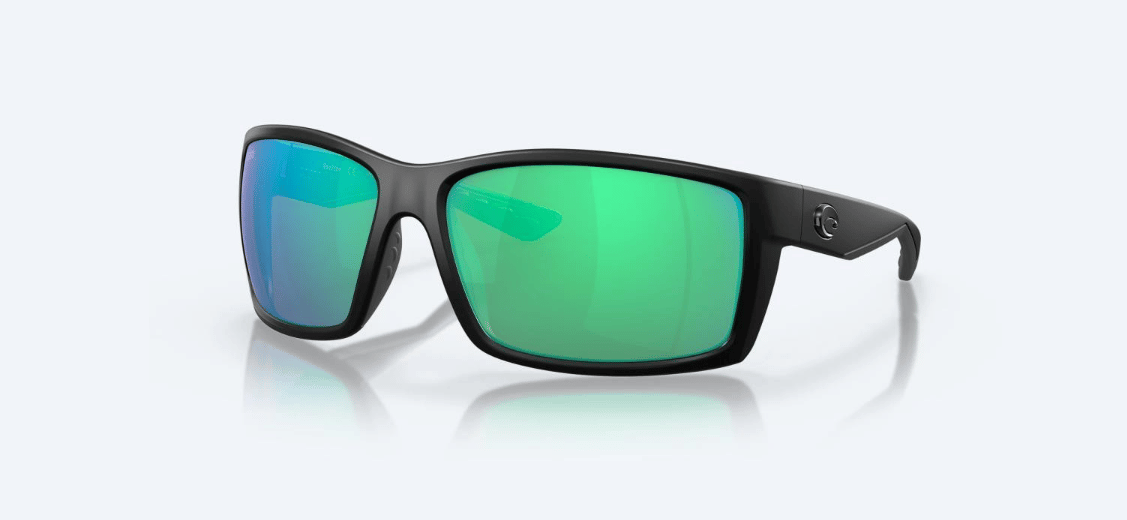 However, users have mentioned that the contrast on the green mirror lens lights up the environment and doesn't seem as dark as the blue.
Costa Green Mirror lenses are a popular choice for fishing enthusiasts who want to protect their eyes and bring the colors of the water to life.
These specialized lenses feature reflective technology that helps reduce glare from the sun's rays, allowing anglers to see more clearly when out on the open water.
The green mirror coating also helps intensify colors, allowing fishermen to spot schools of fish or baitfish more easily.
Costa's Green Mirror technology utilizes a combination of reflective and filtering properties that help reduce harsh glare while intensifying colors in the water.
The lenses are made from lightweight polycarbonate material, making them durable and comfortable to wear.
They also boast 100% protection from the sun's harmful rays, ensuring that your eyes are always safe no matter how long you spend on the water.
The Green Mirror lenses come in various shapes and sizes to accommodate different face sizes and fishing styles.
Anglers can choose from polarized or non-polarized lenses, which help to reduce glare from the sun's rays for better visibility.
The green mirrored coating also helps make colors more vivid, so you can easily spot baitfish or game fish in the water.
Costa Green Mirror sunglasses also feature a hydrophobic/oleophobic coating that repels water, oil, and dust, making them easier to clean. The lenses also feature an anti-scratch coating that helps protect them from accidental damage while out on the open water.
The lens is designed to provide anglers with maximum protection from the sun's rays and enhanced visibility of fish and baitfish in the water.
With various shapes, sizes, and lens types available, Costa Green Mirror sunglasses will meet all your fishing needs.
Whether you're an avid fisherman or just starting, these lenses will help you get the most out of your time on the open water.
With that said, both blue and green mirror lenses from Costa bring the perfect protective material that will keep your eyes safe from extended exposure.
When you're near-shore, the performance of the green mirror lens is far superior to the blue mirror lens.
Costa Green Mirror is the way to go if you like to fish in near-shore freshwater. However, the blue mirror is a better option if you're planning on fishing in deep waters.
All in all, you can go right with either one of these options, and the only difference is that the green lens provides more visibility to the anglers.
Costa Blue Mirror
This lens from Costa is made for extremely bright conditions and limits the contrast and exposure to sunlight.
Even though the blue mirror blocks 90 percent of the sunlight coming into the glasses, anglers have mentioned that the visibility aspect of blue mirror lenses is exceptional.
Costa Blue Mirror lens is a popular choice among anglers looking to expand their fishing experience. These lenses feature polarized technology, reducing glare and improving visibility while providing 100% UV protection.
The blue mirror coating provides an additional contrast level, helping fishermen better spot fish in the water and recognize structure and depth.
Costa Blue Mirror lenses are also designed to be scratch-resistant and provide an extra level of protection against the sun's harmful rays. It is a versatile option, providing multiple tints that make it ideal for different fishing conditions.
Whether you're saltwater or freshwater fishing, these lenses come in a variety of colors and shades to suit your needs.
In addition to providing superior protection, the lenses are also designed for comfort. The frames are lightweight and feature a snug fit to ensure that your eyes remain comfortable even after long periods in the sun.
The lenses have a hydrophobic coating, which helps repel water and reduce fogging, allowing you to stay focused on the water.
Costa Blue Mirror lenses are also designed for clarity and detail to spot fish quickly and accurately.
The lenses provide enhanced depth perception, which allows anglers to easily identify various elements in the water, like rocks, weeds, and other debris.
The polarized technology helps reduce glare and reflections off the water, allowing you to spot fish more easily.
Costa Blue Mirror lenses come with a lifetime warranty. This means that if your lens develops defects or problems after years of use, it can be replaced at no additional cost.
With this protection and quality assurance, you can rest assured that you'll get the best value out of your lenses.
If you're looking for a reliable and versatile lens that provides superior protection, clarity, and comfort, consider investing in Costa Blue Mirror lenses.
With their advanced polarized technology, multiple tints, hydrophobic coating, lightweight frames, and lifetime warranty, these lenses are sure to give you the best fishing experience imaginable.
You don't have to worry about poor visibility while using the Blue Mirror lens on your fishing trip. It suits offshore environments better than near-shore water conditions with the green mirror lens.
The lack of contrast in this lens makes it easier to withstand bright exposure when you're in deep waters. It is a neutral grey lens that makes it easier for your eyes to recognize every little detail in bright conditions.
This lens does a good job of keeping things natural and provides a darker shade of protection. So, depending on the fishing conditions you prefer, you can make an ideal purchase decision between green and blue mirror glasses from costa.
Regarding the dates and sizes of these glasses, you can find similar styles in green and blue mirror variants. Costa does not compromise on the quality and protection elements while designing its lens.
So, you don't have to worry about less protection from any of the fishing lenses when comparing them with other options.
Contact Costa customer support if you need more information about their product line.
These were a few differences between the Costa Green Mirror and Blue Mirror lenses.
Green Mirror is the better option if you're fishing in near-shore freshwater. But, if you're planning on fishing in deep waters offshore, then going with Blue Mirror is a better choice. Aside from that, you can choose any style variant that you prefer.