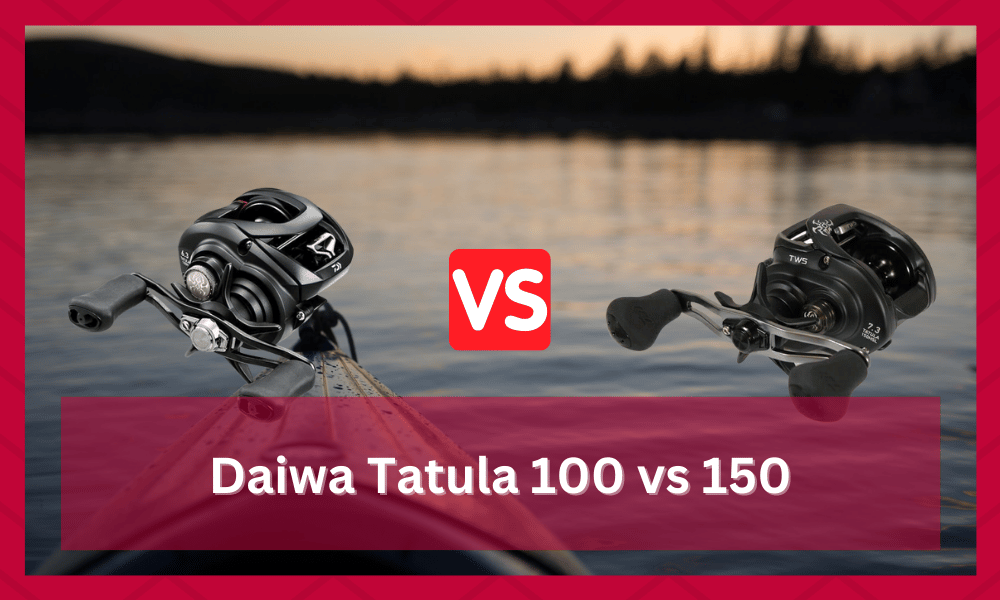 Bass anglers across the nation are in love with the performance of the Daiwa Tatula lineup.
These reels have been dominating the fishing scene for years with their low-profile design and incredible performance consistency.
However, it can sometimes be hard to find the right unit for your fishing system because of the massive list of variants offered by Daiwa Tatula.
Anglers often seem to be confused between the Daiwa Tatula 100 and Daiwa Tatula 150 when picking their first reel.
While both of these options are pretty decent, users have mentioned better things about the Tatula 150.
So, here are some more details on the Daiwa Tatula 100 vs 150 that will help you finalize the purchase decision. Make sure that you go through this information carefully.
This is because it should help you in understanding how the device is different. Additionally, people should be able to learn about the different features found on the Daiwa Tatula 100 and 150 models.
This should allow most users to make a clear decision so that their fishing reel can last them a long time.
The Daiwa Tatula 100 vs 150 Comparison
| | | |
| --- | --- | --- |
| Fishing Reels From Daiwa | Daiwa Tatula 100 | Daiwa Tatula 150 |
| Max Drag On Reel | 5 kg Maximum | 6 kg Maximum |
| Alloy Handle On Reel | 90 mm Durable Handle | 100 mm Durable Handle |
| Weight Of Reel | 195 grams | 230 grams |
| Magnetic Brake | 20 Files On Reel | 20 Files On Reel |
| Total Ball Bearings | 8 Ball Bearings | 8 Ball Bearings |
Daiwa Tatula 100
While the weight brought forward by this reel is substantially lighter than the Daiwa Tatula 150, you'll find many mixed reviews on the performance of this reel.
However, the majority of anglers that were not happy with this reel were using the Daiwa Tatula for heavyweight applications.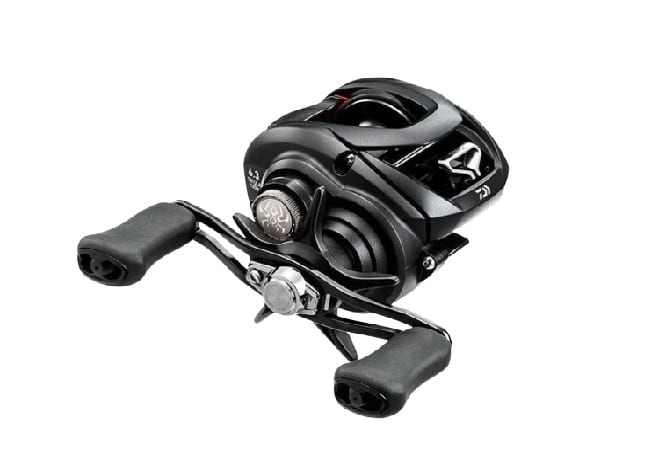 This model is specifically designed to excel with lighter baits and to skip. So, keep that in mind if you're looking for a reel that can handle the increased weight of your lures.
When you're looking at the gear ratio and the retrieval rate, the performance of the Daiwa Tatula 100 is much better.
You will get 6.3:1 in this model as compared to 5.5:1 in the Daiwa Tatula 150. So, if you prefer a reel that has a faster retrieve rate to help with lightweight applications, then Daiwa 100 is the reel for you.
However, this reel can't outperform the Daiwa Tatula 150 when you're talking pure power.
The drag system on the 100 is just not powerful enough to keep up with the heavier weight demands of the Tatula 150.
The power difference is pretty significant, and you will be much better off with the 150 as compared to the 100 in rougher water conditions.
Overall, Daiwa Tatula 100 is a great reel that is exceptional in calmer conditions and lightweight applications.
It won't fit your setup if you're used to heavier lures, and you'll struggle with the casting smoothness and accuracy.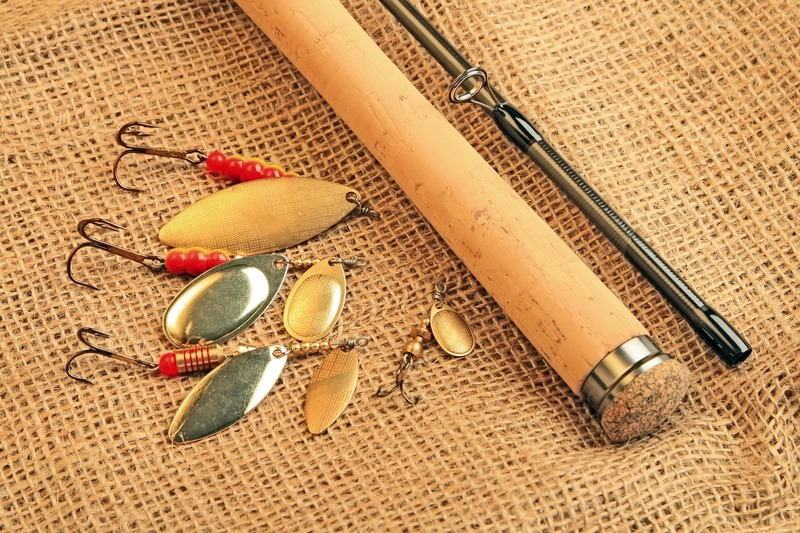 For this reason, you should only purchase this reel if you like fishing with lighter baits.
So, make sure to stick with Daiwa Tatula 100 if your fishing requirements follow the details mentioned here. Otherwise, you can always go with the 150 models for more durability and strength.
Getting to the features found on this fishing reel, people should note that the Daiwa Tatula 100 comes with a maximum weight of 6.9 pounds.
This is lighter compared to most reels, but the major downside is its less drag capacity. This maxes out at around 11 pounds which is far less compared to other reels.
On top of this, you should note that the mono line capacity of the reel is also less which is the main reason you cannot use heavier baits.
People fishing with lighter bait should not have any issues with this as they will never run into any problems.
The ball bearings in the fishing reel max out at 8. This makes the device quite durable, and it should last you a long time.
People should note that the same number of bearings are used on the Daiwa Tatula 150 model which means that the durability of both these devices is the same.
While these can last you a long time, one important thing to keep in mind is that these reels still require a lot of maintenance.
As long as you keep this up, most problems can be avoided from appearing. The process is quite simple, but it should be repeated frequently for the best results.
Daiwa Tatula 150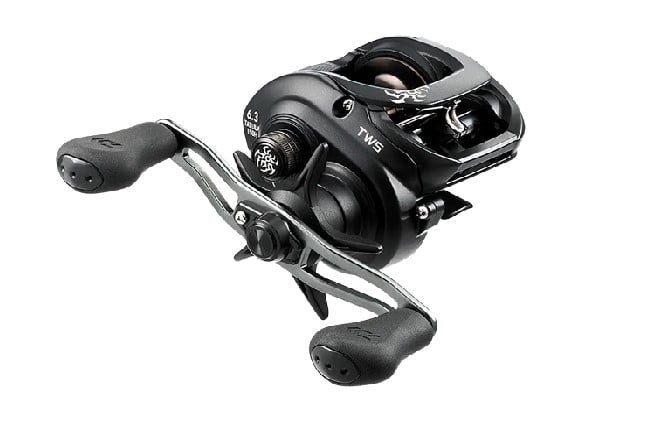 With a heavier structure and a stronger drag system, Daiwa Tatula 150 brings a smoother casting experience to the anglers.
The customer experience has been pretty positive with this brand, and you will get the same eight bearings with the Tatula 150 when compared with the 100.
So, if your fishing system demands a more robust reel that can withstand rougher conditions, then going with Tatula 150 is the best option for you.
While this reel might be a bit heavier, you won't have to worry about any extra strain on your hands.
Anglers have said that the 150 is easier to handle when compared with the 100, and the increased strength of the drag system further adds to the viability of this reel.
So, make sure to test out this option if you're new to fishing and like to work with heavier baits.
The only area where 150 can't outperform the 100 is the retrieve rate. You won't get a good gear ratio with this reel, and the retrieve rate is significantly less than the Daiwa Tatula 100.
So, keep that in mind if you prioritize the retrieve rate in the reel.
Overall, the anglers are happier with the Daiwa Tatula 150, and it is established in the market as the better reel.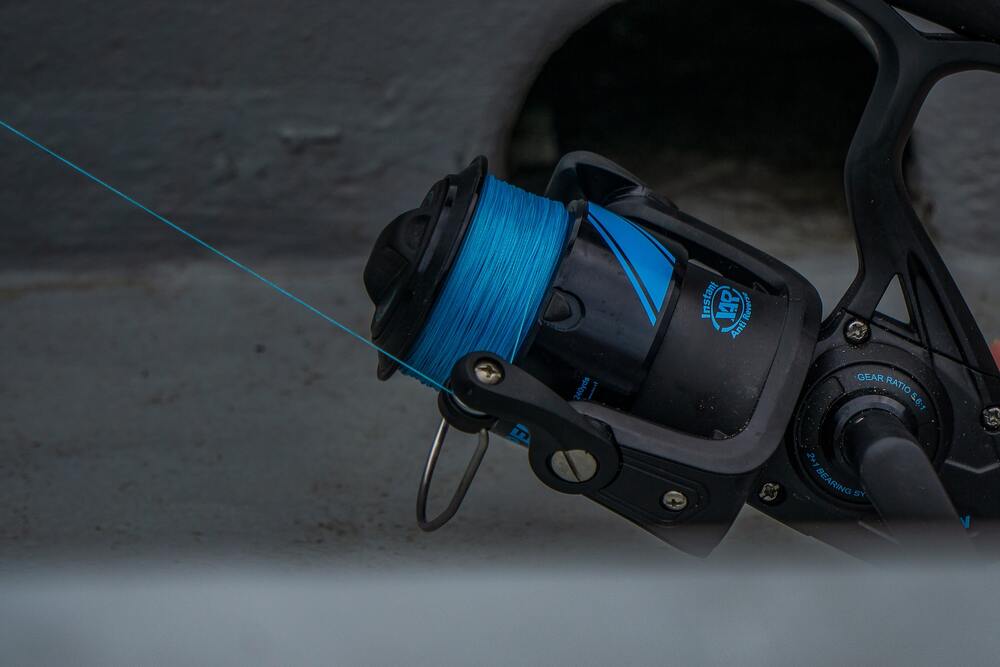 You won't have to worry about any performance-related complications, and this reel will perfectly match your fishing requirements.
So, if you're not that worried about the budget difference, then going with the Tatula 150 is way better than the 100.
Even if the lures are not that heavy, the smoothness of this reel is better than the Tatula 100.
To get a better perspective, it would be better to try these reels for yourself and pick the option that matches your style.
If you have a friend that uses these reels then trying them out can be quite simple. However, if you don't have this option then look for dealers nearby you that might have the device.
When it comes to this, people should remember to visit the official website for Daiwa Tatula.
This should have all the devices listed along with their specifications. You can then go through these one by one to find a reel that best suits your usage.
The website should also have a tab that allows you to search for nearby dealers. You can look for them and then visit them to try out these reels one by one.
This is a great way of ensuring that you get the best possible fishing reel for your usage.
Finally, one last thing people should note about these devices is their warranty service. This can be used in case of any issues with the device and the brand will provide you with free replacements.
You should note that there are also some guidelines that you will have to go through.
These can help you in ensuring that the problem you were running into falls under the warranty claims.
On top of this, you can also contact the customer support team to help you out. They will provide you with all the information required regarding your issue.
The team can even help people in getting rid of problems by providing them with viable troubleshooting steps.
The only thing that you need to do is provide the team with all the details about your problem so that it can be isolated.