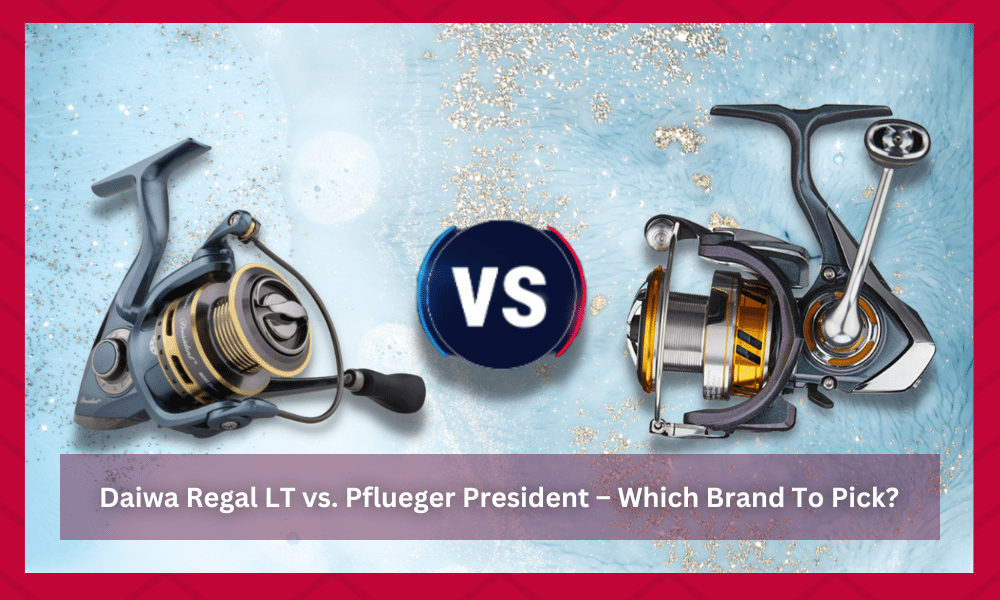 While Daiwa might be the better brand in the premium range, the cheaper reels are not that exceptional. You will find many items from Okuma in Pflueger to be a better fit, and in the end, it all comes down to personal preferences.
So, if you're new to fishing and don't want to spend over a hundred dollars on a new reel, Pflueger or Okuma will serve you better.
Usually, anglers prefer to compare the Daiwa Regal LT vs. the Pflueger President when sticking close to the 50-dollar price point. If you've considered these two options, the following details will help you find the right pick.
Daiwa Regal LT vs. Pflueger President – Which Brand To Pick?
Daiwa Regal LT
When you're talking lightweight and a decent retrieve rate, Daiwa Regal LT has covered you with one of the best options. You will enjoy a 5.2:1 gear ratio with an 11-max drag limit from Daiwa Regal LT.
Moreover, the weight of the lighter models from this reel is less than 7 oz. So, if you're looking for more comfort and don't plan on catching larger fish with the reel, then Daiwa Regal LT is a decent choice.
When you compare it with the Pflueger President, the difference in the durable build will be apparent. The president model presents a more robust structure, and the engagement of the drag system is better on this reel.
You won't get the same performance from Daiwa, and there is no point in going with Daiwa if you're planning on putting an extra load on the reel.
The Daiwa Regal LT is a revolutionary fishing reel that offers anglers exceptional performance, reliability, and strength. Its advanced technologies provide outstanding smoothness, casting distance, and power for any type of fishing.
The reel has been designed to handle whatever nature throws at it and provides anglers with the tools they need to give them an edge when out on the water.
It has a strong aluminum frame designed to withstand the toughest conditions, while its revolutionary Digigear technology helps produce long casting distances.
The combination of these two features makes Daiwa's reel one of the best on the market. The reel also has a lightweight design that helps it remain easy to use and transport.
The Daiwa Regal LT is designed with an ergonomic handle and optimal power knob, ensuring anglers have maximum control over their line while fishing.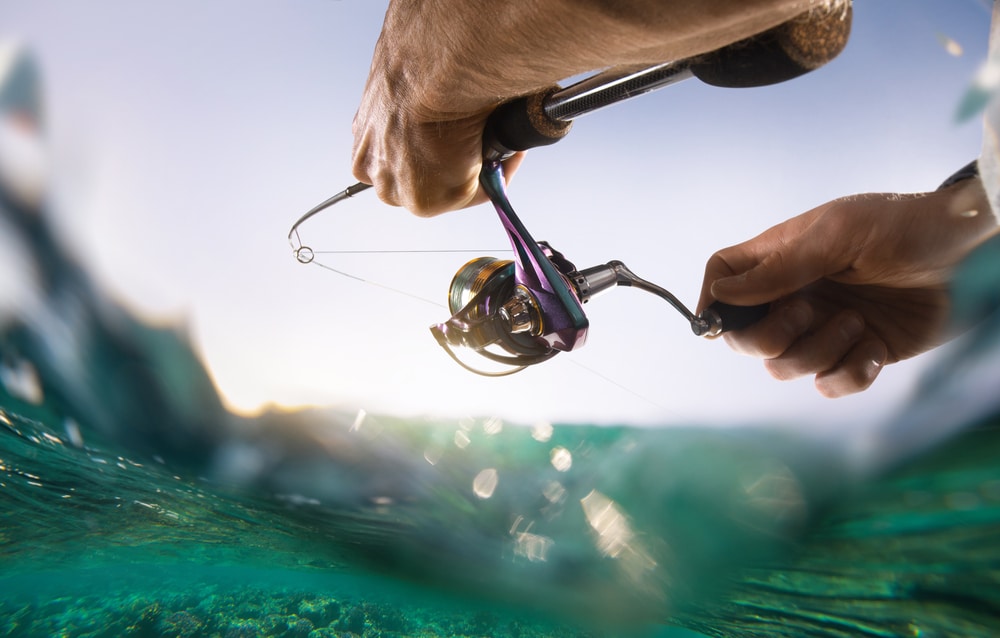 It also features four stainless steel ball bearings that help provide smoothness and accuracy when casting, making it ideal for freshwater and saltwater fishing. Daiwa's unique Ultimate Tournament Drag system adds extra power when needed.
Daiwa Regal LT is a reliable reel that offers anglers great performance and durability at an affordable price. Its advanced features make it perfect for all types of fishing, from freshwater to saltwater.
Its lightweight design allows anglers to maneuver quickly and efficiently on the water, while its ergonomic handle and power knob provide maximum control over their line.
The reel also features Daiwa's Ultimate Tournament Drag system, which gives anglers extra power when they need it most. The Daiwa Regal LT is a great option for anglers who want a high-performance reel at an affordable price.
It provides them with all the tools they need to succeed on their fishing trips and is sure to last them for many years.
Even though the Digigear system brings exceptional smoothness to the anglers with Daiwa Regal LT, you won't be able to rely on this reel under demanding situations.
Moreover, the drag system won't engage properly when the line and the baits are heavy. Keep the structure of your fishing equipment in mind before spending money on a new unit.
Overall, Daiwa Regal LT will always be the smoother reel that offers more comfort and control to the users. It is incredibly easy to use, and you will find more anglers starting with this fishing option.
So, if you're in the same situation and don't want a reel that is harder to use, then going with Daiwa Regal LT is the option for you. It will perfectly match your budget and take you only a few weeks to get used to this reel.
Pflueger President
The features on this reel are not that exceptional compared with the Daiwa Regal LT. However, Pflueger President has covered you with the best performance when talking about pure functionality.
The combination of the graphite body with stainless steel bearings brings the ideal balance between a strong structure and a lightweight setup. For this reason, many anglers say good things about Pflueger's President.
On the other hand, when talking about comfort, ergonomic design, and the smoothness of the gears, Daiwa will always take the lead.
Even though you can't go wrong with either option, the perfect purchase decision can vary depending on your requirements.
Go with Pflueger President if you're looking for power and durability and try out the Daiwa Regal LT if you're looking for more comfort.
The Pflueger President is excellent for anglers who want to experience quality fishing without breaking the bank. It offers a variety of features that make it a great option for those looking to upgrade their current reel or purchase a new one.
Firstly, the Pflueger President offers superior build quality and durability. It is designed with a corrosion-resistant body for extra strength.
This ensures that your reel lasts longer and withstands more wear and tear during tough fishing trips.
The Pflueger President also provides anglers with excellent line control. In terms of ergonomics, the Pflueger President is second to none. It has a handle design that comfortably fits your hand and allows for smooth cranking.
The reel is equipped with a stainless steel handle knob, improving your grip during long casts.
The Pflueger President is an excellent choice for anglers looking for a quality fishing reel that won't break the bank.
It offers great build quality and durability, excellent line control, and an ergonomic handle design that won't slip or cause fatigue.
 With its affordable price point, the Pflueger President is a great option for anyone looking to upgrade their current reel or purchase a new one.
Whether you're fishing inshore, offshore, or just out on the lake, the Pflueger President will help you land your next big catch.
Most of the market prefers to stick with Pflueger President because of its better build quality, and you should do the same if the water conditions are rough in your region.
There is no point in going with a reel that will break in a few months. So, even though Daiwa offers more features and comfort, you should prioritize basic functionality and durability.
Pflueger's President can be a bit more expensive than the Daiwa Regal LT, but the difference in the price point is not that significant.
You will get more durability from this reel, and this brand claims to provide a better and more corrosion-resistant setup for anglers.
So, if you're planning on purchasing a reel that will last you for several years, then going with the President is the best move. Make sure to test the performance before making the final purchase.
Concluding Thoughts:
In conclusion, the Pflueger President and Daiwa Regal LT are excellent spinning reels that give the anglers quality performance. While each has its own pros and cons, they offer superior build quality and strong line control.
The Pflueger President is ideal for those who prioritize durability and power, while the Daiwa Regal LT offers more comfort and features. Ultimately, your perfect purchase decision will depend on your needs and preferences.
So, consider what you want from a reel before deciding which one to buy. Whichever option you choose, you can rest assured that both reels are sure to give you an enjoyable fishing experience.
No matter what reel you choose, it's important to remember that the key to a successful fishing adventure is practice and patience. Be sure to take the time to test out your new tool before heading off on your next fishing trip. Good luck and tight lines!