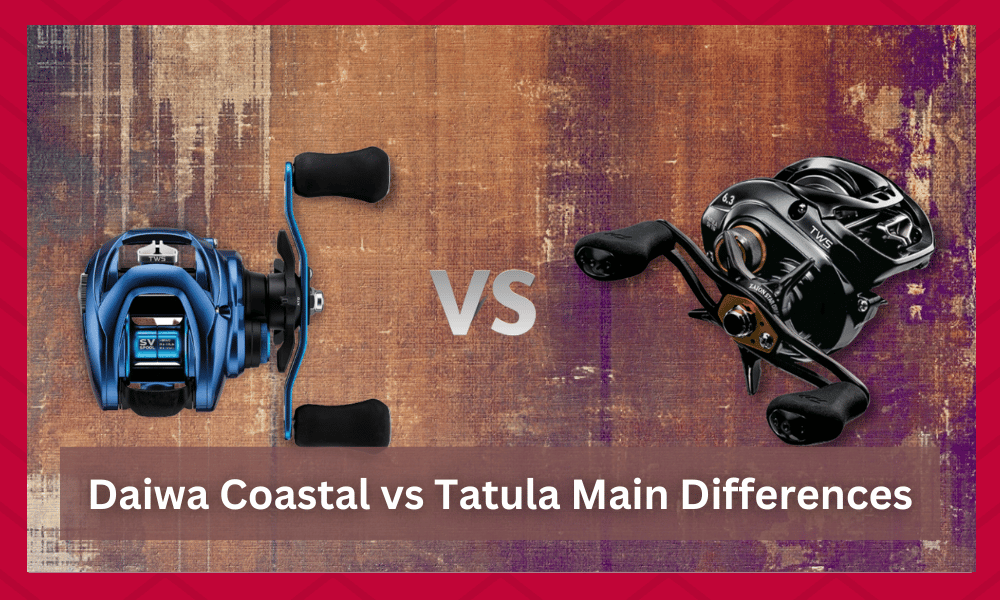 While many anglers debate about the better brand between Shimano and Daiwa, no one can deny the better pricing available on the Daiwa models.
The quality difference between these two brands is not that significant for most casual anglers and going with Daiwa is usually better for the budget.
So, if you're looking for a high-tier fishing reel for your system, then going with Daiwa over Shimano is a better option. The Daiwa Coastal and Tatula are two of the best units that you can choose from this brand.
These have tons of similarities but there are also some differences between them.
Both of these models have been in the market for years, and you can't really go wrong with either one of these options. So, here are some details on Daiwa Coastal vs Tatula.
If you are confused about purchasing one out of these two reels then going through this article should be beneficial.
This is because we will be providing you with all the information required regarding these reels. The process should help people in understanding how the reels differ from each other.
Additionally, this should help people in making better decisions as they can choose the device based on its features.
Daiwa Coastal vs Tatula Main Differences
| | | |
| --- | --- | --- |
| Daiwa Fishing Reels | Daiwa Coastal Fishing Reel | Daiwa Tatula Fishing Reel |
| Size Of Fishing Reels | Compact Fishing Reels | Smaller Than Daiwa Coastal |
| Frame Design Of Fishing Reels | Similar In Comparison | Similar In Comparison |
| Line Capacity Of Fishing Reel | Better Line Capacity | Worse Line Capacity |
| Size Of The Handle On The Reel | Larger Handle In Comparison | Smaller Handle In Comparison |
| Compatibility With Lighter Lures | Worse Compatibility | Better Compatibility |
Daiwa Coastal 
The Coastal series from Daiwa brings the perfect balance between durability and the size of a fishing reel.
While these reels are marketed as one of the most compact options in the market, you will get an even smaller size with the Tatula series.
So, if you're only looking for lightweight options that don't put any extra strain on your fishing system, then going with Tatula might be the better choice between these two reels.
Among other things, you will find that frame quality and design are pretty similar between Daiwa Coastal and Tatula.
However, when you're talking about line capacity and the size of the handle, the Coastal presents a better value with a 150-size spool. Moreover, the handle size is also 100mm with the Coastal series.
So, even though Coastal is a bit larger than the Daiwa Tatula, you will get 50 percent more line capacity with this reel.
According to many experts, the Daiwa Coastal is better for inshore saltwater fishing but can't compete with Daiwa Tatula when it comes to lighter lures and distance casting.
So, if you're looking for a reel that performs better with lighter lures, then going with Daiwa Coastal is not a good move. You'll be much better off with Tatula when dealing with lighter lures.
Overall, Daiwa Coastal brings a compact option to anglers that still provides decent spool capacity.
The SV spool and the T-Wing system further add to the utility of this reel, but anglers were more satisfied with the drag system on the Tatula.
So, you should go with Tatula if you are looking for a better braking capacity on the fishing reel.
Most users recommend that you try out the device once before purchasing it. This can help you in understanding how it works and you can also test out the different features.
When it comes to this, there are several methods that can be used to check the Daiwa fishing reels.
You can either contact your friends or local anglers to see if they have the product available. Alternatively, people can look for dealers nearby them that have these reels with them.
You can then visit them and test out the product before making your decision.
The features on these fishing reels are quite similar but you should still be able to easily notice the differences.
Daiwa Tatula
In terms of popularity, Daiwa Tatula will always maintain the top spot in the market. From beginners to experts, every angler is in love with the amazing design and the braking capacity of this reel.
It brings the same aluminum frame as Daiwa Coastal, but the smaller sizes make it much lighter than the Coastal series. On top of that, you will get a 90mm handle with this reel.
So, if you prioritize comfortability on a fishing reel, then going with Daiwa Tatula is the better choice.
While you can find some variants of the Daiwa Tatula that are heavier than the same options in the Coastal series, the majority of Tatula models will be lighter.
So, make sure to check the specifications for individual models before spending more money on purchasing a new reel for your system.
This reel is more oriented toward distance casting and skipping. So, if you're looking for a fishing reel specifically for these use cases, then going with Daiwa Coastal is not such a good choice for you.
Going with the more compact option like Tatula SV will perfectly take care of your fishing needs, and the SV spool will make it possible for you to manage the line tension better.
Moreover, this reel is considered more forgiving for beginners, and you will have complete control over the casting smoothness and the retrieve rate.
Overall, Daiwa Tatula is regarded as the better reel because of its compact design and smoother performance with lighter lures.
The newer models from this series address the concerns with the smaller spool size, and you can find some variants with the 150 spool size options. On top of that, you will also get a 110mm handle with an ergonomic design.
So, if you can extend your budget by a small margin, then the Daiwa Tatula series has got you covered.
The information provided above should allow most people to learn the different features present on these fishing reels. They can then select one out of the two models easily.
The choice might slightly vary depending on your personal preferences and requirements so keep that in mind.
With that being said, if you are still confused or have some questions regarding the fishing reels in mind then reaching out to the customer support team is the best option.
The great thing about the support service is that they will answer any questions you ask them. They will also help you out in case your reels are running into any issues.
Just make sure that you provide the brand with all the details about your problem, and they will then get it fixed.
Finally, people should note that there are tons of other fishing reels that Daiwa provides.
This is why if you are not feeling comfortable purchasing a product out of these two then there are several other options that you can check out before deciding.