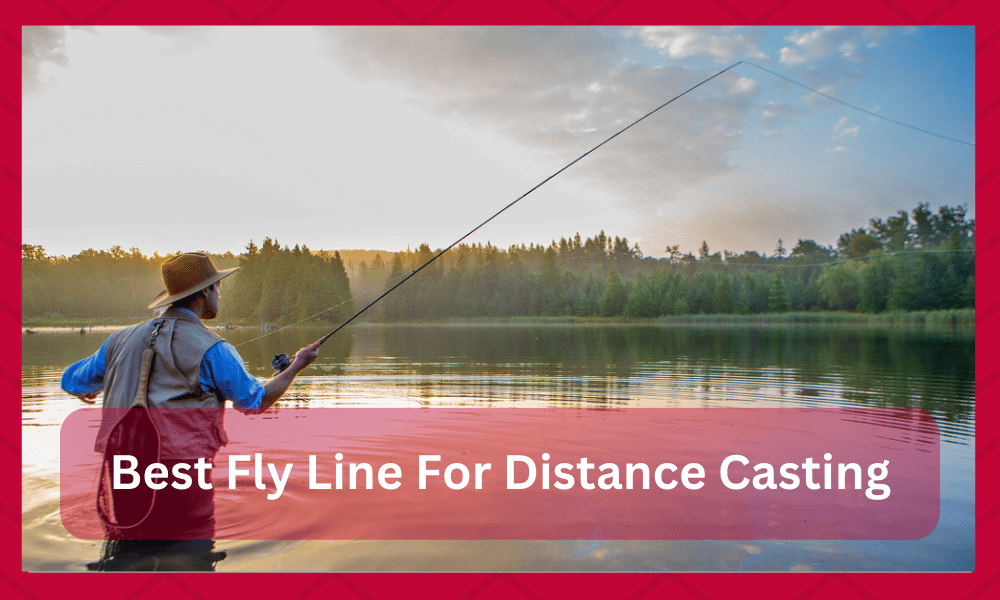 The casting distance is arguably one of the most important factors when it comes to purchasing new fly lines. An increased casting distance will allow you to catch more fish as you'll be at a distance from the target.
This will minimize the disturbance in the water, and it will be easier to secure a catch without scaring the fish away.
So, if you're struggling to secure a consistent catch rate, upgrading your fly line will serve you well. Many phenomenal fly lines in the market are primarily known for their casting distance. 
Some of these options might be expensive, but they are second to none in terms of performance. So, let's cover the best fly line for distance casting.
6 Best Fly Line for Distance Casting
Cortland 444SL
With a weight forward taper, the Cortland 444SL is one of the best lines for distance casting. Aside from the casting benefits, it brings a durable braided nylon core.
Many anglers have said good things about the visibility of this line and the precise control.
So, if you're not that worried about the budget and need a decent fishing line that will last you for an extended period, then Cortland 444SL is a good place to start.
It is primarily used for trout fishing, but you can get decent results while catching Salmon with this fishing line.
Barrio Small stream
The Small Stream is the latest model launched by Barrio and brings a durable coating to the users. The front taper configuration on this fly line makes it perfect for distance casting.
The unique thing about Barrio Small Stream is its minimal memory. Even after years of use, you won't have to worry about the fly line warping out of shape.
This fly line is also meant for trout and performs better with still water fishing techniques. So, if you are fishing in the same conditions, then Barrio Small Stream is a good choice.
Airflo 40+
Airflo fishing lines have a decent reputation in the market as one of the top brands. You can find tons of options by browsing the Airflo fly line portfolio.
In terms of casting distance, anglers were especially pleased with the Airflo 40+ Extreme. So, you should give this fishing line a try if you don't mind the 70-dollar price tag.
This model from Airflo combines the ultrathin line with a slick coating to enhance the casting distance. So, you'll be able to consistently cast longer distances without putting too much focus on the cast.
Ambush 10
Next on the best fly line for distance casting is the Ambush 10. Depending upon the size of your rod, you can also go with Ambush 11, and it will bring a better head to your setup.
The size of the head has a direct impact on the casting distance. However, you will need to make sure that the fishing rod can support the larger head.
Ideally, Ambush 10 is enough for most fishing setups. However, if you're trying to catch heavier fish and using a heavier weight rod, then going with Ambush 11 is not a bad choice.
Mastery Expert Distance
When you look at the price point, this fly line from Scientific Anglers brings the perfect value package to the users. It has the extra-long head and perfect tapers to smoothen up the casting.
Even over long distances, you will have complete control over the line. So, the increased price point brought forward by Mastery Expert Distance is justified by phenomenal performance. 
Other than that, you will get a braided multifilament core, and it can be considered a superior line when compared with Airflo 40+.
Rio Gold 
The Rio Gold is last on this list of best fly lines for casting distance. However, that doesn't mean that it lacks any versatility or precision when compared with other fishing lines mentioned here.
With a rear body taper and a long head orientation, you will get an extended flight time as you're casting the line. So, it is effortless to secure longer casts without having to put too much effort into managing rod action.
Overall, these are a few options you can choose if you're trying to purchase the best fly line for casting distance.
However, you won't be able to get consistent results if the rod doesn't complement your choice of fishing line. So, make sure to check the compatibility of your rod with the fly line.
Stren Magnathin
The smaller diameter of this line allows for a more perfect cast. You won't ever run into issues with the memory and it is perfect when you're working with the crankbaits.
So, if you're using a similar setup and need something to improve your casting distance, Stren Magnathin is not a bad option. 
While the smaller diameter of this line will seem like this line is not that great, it is more than enough to help you through extensive fishing projects. So, don't hold off on this line and stick with this robust system.
The pricing is pretty reasonable and you will not feel any strain on your system.
So, just stick with the Stren Magnathin and you will not feel the need to switch to any other option. Hopefully, you will be sorted out in no time. 
Just make sure that you're not putting any excessive pressure on this line as it might break over the 20 lbs. range. Sticking below this range is the only real thing that you can do when it comes to Stren Magnathin.
Trilene XL
When you're talking about great knot strength and a popular name in the market, going with the Trilene XL is a great idea.
This line has been used by experts for years, and you will find countless anglers switching over to Trilene XL for distance casting. 
It might not be the most affordable line on the market but you'll get more than what you pay for.
Everything from the casting smoothness to the versatility and the sensitivity is off the charts. So, you will not only get amazing performance, but this line will also serve you for months on end.
As long as you're a bit efficient when it comes to the knotting technique, you will not have to worry about a thing.
When compared with other lines on the market, you will attest to get 25 percent better knot strength and 50 percent better-wet strength. 
So, there is no need to worry about the knot strength and you will be sorted out in no time.
Everything boils down to how you're planning on developing your fishing system and following through with these choices might just be the right option.
SpiderWire UltraCast
Lastly, when you're aiming more for experience options and want to rey out the best light weight line on the market, then we can't ignore the SpiderWire Ultracast.
The quality of this line is beyond any affordable point on the market. 
You will have to pay a bit extra for this line and it is not a cheap option. However, the durability, the light capacity, and the fishing experience will be phenomenal.
So, if you're not that worried about the budget, going with this line is the right option.
If you're just a beginner, then we will suggest that you stick with some of the cheaper options here.
On the other side of things, if you're not that worried about the cash investment, then spending more on the SpiderWire Ultracast is the best decision that you can make.
The difference in the fishing experience will be like night and day.
You'll eventually have to develop the budget to switch over to this line. However, if you're just trying to have a casual trip and saving your money, then going with the Spiderwire Ultracast is the best option.
The Takeaway
Looking for the Fly Line for Distance Casting? We've gone through some options for every price range.
Whether you're trying to save money or aiming for exceptional performance, going with the list above will help you figure out the perfect option.
The local water conditions will still have an impact on the final performance.
However, if you're using the right bait and the quality of the exciting fishing equipment is decent, going with any one of the lines listed here will have you sorted out. 
However, if you're still confused, just ask a local expert. There is no need to experiment on your own when you can get details from a local expert.
So, be sure to reach out and explain your budget as well as the requirements to the local experts. 
They will guide you on what reel is best suited for your system. Seeking guidance from officials is the best thing that you can do when it comes to improving your understanding of the fishing system.
So, don't over complicate the things on your own and have the experts guide you about the right fit.