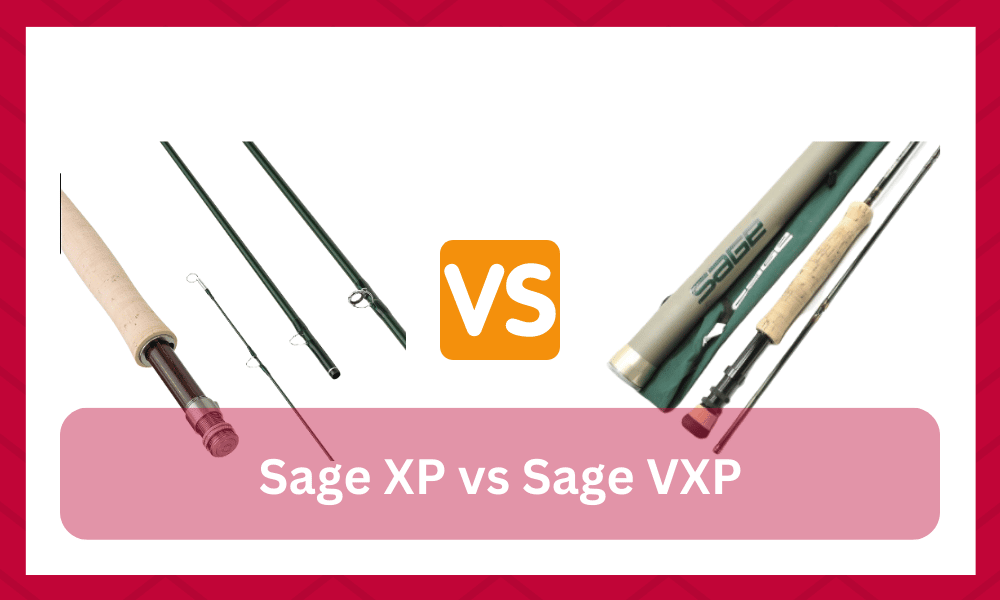 When you're talking about premium brands in the market, Sage will always be a part of the conversation.
Even though the pricing point offered by this brand is well beyond the budget of most anglers, you won't find a better brand when it comes to quality. 
So, if you've been fishing for a while and need a phenomenal fishing rod that can perform under heavy load, then Sage is the brand for you.
The Sage XP and VXP are two of the most famous models from Sage, and it is pretty common to see anglers talk about these options. 
According to experts, you can't go wrong with either rod, and you should purchase the option that feels better in your hands. So, here are some specifics on Sage XP vs VXP.
Sage XP vs VXP Main Differences
| | | |
| --- | --- | --- |
| Specifics | Sage XP | Sage VXP |
| Stiffness | Robust | Moderate |
| Target Market | Experts | Intermediate |
| Rod Action | Quick | Slightly Slower |
| Market Sentiment | Decent | Moderate |
When you browse through some of the reviews on the Sage XP and VXP, you will find that the majority of the customers are behind the XP and avoid the VXP.
Some anglers even go as far as to say that the VXP doesn't bring any value to the anglers, and it is just an inferior version when compared with XP. 
However, that is not at all true. The pricing might not be as reasonable with the VXP, but the comfortable casting smoothness and a bit of a slower action allows for more control when you're talking to beginners.
On one side of things, anglers consider the VXP as an absolute flop while on the other side of things, anglers develop their whole gear around the VXP. Everything will ultimately boil down to the local water condition and your preferences.
So, instead of taking the word of other anglers on every occasion, you gotta test out these systems by yourself.
Otherwise, you will just be complicating the situation for yourself and won't be able to gain the desired efficiency even after spending hundreds of dollars. 
Moving towards the XP might seem like a great idea from the get go, but getting used to this rod can be hard for beginners. The learning curve here can be a bit difficult and you will have to go through weeks of training to get used to this rod. 
However, once you're through with this learning phase, the XP is undoubtedly better.
The market sentiment of the Sage XP is beyond phenomenal. You'll find anglers flocking towards this rod and it is hard to set apart this cult like behavior when considering the final purchase.
Most of the time, the final purchase decision will only depend on the budget for most anglers.
If you're a beginner, just go with the rod that is cheaper. You will not have to worry that much about the rod action or the sensitivity as either one will serve you well. 
There is no need to overly complicate the situation for yourself when you're confused between these two rods.
Both the VXP and XP are good enough to serve as  a good foundation and you will not have to worry about switching to any other rod for years to come. 
For more perspective, you gotta also consider the rods that are used by other owners in your region. That will give you a better understanding on how to modify and improve your setup.
Sage XP
The Sage XP is arguably one of the most famous fishing rods on the market, and you will find many experts talking about the phenomenal sensitivity of this model.
Anglers have described this rod as an extension of their bodies, and the control offered by Sage XP is second to none. 
So, when you're talking popularity, the standard version of Sage XP will always take the lead over the Sage VXP.
Sage XP is a bit stiffer than that VXP, and there are massive differences between the performance of both rods. 
While there are a few fans of the softer style brought forward by VXP, the majority of anglers are disappointed in the performance of VXP. So, you will often see anglers talking badly about the Sage VXP on the community forums.
As far as rod action is concerned, Sage XP is much better and better suited for experts. You will need a bit of experience under your belt to make use of this stiffer unit.
It is pretty easy to generate power through this rod, and many experts eventually switch to Sage XP to maximize the efficiency of their fishing system.
Overall, Sage XP can be described as an absolute unit that has maintained a stable spot in the market for years. It is hard to find an expert that has something bad to say about Sage XP.
So, if you're able to get your hands on a Sage XP in decent condition, then it will serve you for years. Even though it might take some time to get used to the rod, you won't be able to find a better option in the market.
Now, all this support behind the XP doesn't mean that you will get a sub par experience with the Sage VXP. Instead, you should think of the Sage VXP as the rod that is designed more for the beginners.
So, if you're new to fishing and need a bit more of a stable foundation, VXP is not that bad.
Everything will boil down to your experience in one way or the other. So, when you can't seem to figure out the right fit for your next trip, just go with the rod that feels better in your hands. 
Sage VXP
The only reason why you'll find some anglers saying bad things about the Sage VXP is that customers expect the same feel and casting performance as Sage XP from this model.
Both of these rods are pretty different in build quality and different target segments in the market. 
So, even though this rod is pretty great for intermediate anglers who require a slower rod action, you'll find many dissatisfied customers when browsing the community forums.
Sage VXP is more forgiving to the anglers and brings deeper loading to the users. It can help you develop your fishing technique without being too harsh on your hands. 
So, if you're still learning the basics and are not yet ready for a stiffer and more powerful rod, going with Sage VXP is not a bad choice.
It is true that Sage XP is a pretty phenomenal fishing rod and exceeds the performance brought forward by Sage VXP, but the skill of anglers has a huge role to play in the final efficiency.
There is no point in going with Sage XP if you can't handle the rod action and the stiffer structure feels heavier on your hands. So, in the end, the only real way to decide between these two options is to test them yourself.
Overall, Sage VXP is not a bad choice, and there are a ton of anglers who have said good things about the softer rod action.
The durability and the build quality of both rods are pretty similar, and you don't have to worry about any durability-related issues with Sage. 
So, the only thing you need to consider is what option complements your fishing style. Testing out a few casts from both Sage VXP and Sage XP will give you a complete perspective on the purchase.
Lastly, if you're not sure about the final purchase decision even after testing out the rods, just ask the local experts to help you out.
The anglers that have been fishing in your region for a couple years now will know which rod best complements your local fishing conditions. 
Asking these experts to help you out and make your life easier will put you ahead of the competition. So, all that you gotta do is to ask and you'll get access to their practical knowledge and region specific details.
The Takeaway
Both the Sage XP and the VXP have been used by countless owners across the nation, with the majority of the customers being behind the XP rods.
This doesn't mean that the VXP rods are bad or won't serve you with any consistency. Instead, the phenomenal performance of XP has attracted the most attention. 
Going with the rod that is better suitable for your budget is the better option when you're just starting out. There is no need to confuse yourself with all the extra details and the minor differences in the rod action and the usability. 
You might get tempted by the cult-like behavior maintained by some anglers when you bring up a discussion about Sage XP.
However, you should still test out the VXP for yourself before making the final purchase decision. 
Most beginners tend to like the slower action brought forward by the VXP and you will also enjoy an amazing fishing experience with this brand.
So, be sure to stick with this option when you're aiming for peak performance and utility.