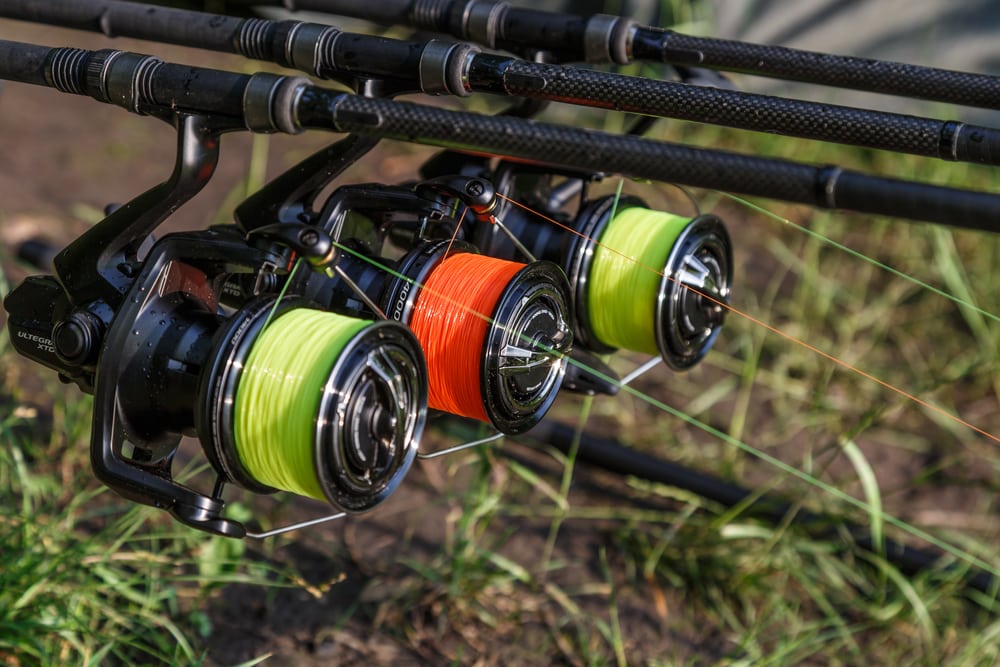 While talking about spinning reels, you will often notice debate leading towards Daiwa and Shimano. Both of these brands offer quite an exceptional range of options to the users, and you can't really find a better value from any other organization. So, if you're a beginner and need a reliable fishing reel, then it is a good idea to start with Daiwa or Shimano spinning reels. You won't be disappointed with this decision. Many anglers have recently come forward with questions on Daiwa Exist vs Shimano Stella spinning reel. If you're also interested in making a purchase on these units, then the following information will help you make an informed purchase decision.
Daiwa Exist vs Shimano Stella Spinning Reel
Daiwa Exist
In terms of pricing, you will be saving a few hundred dollars while choosing Daiwa Exist over Shimano Stella. But the big question that many anglers ask is whether or not it can keep up with the value that Shimano Stella brings to your setup. The answer to this question is not that simple, and the market sentiment is pretty divided between these two spinning reels. Many users show their preferences for the Daiwa exist and can't really seem to justify the price on Shimano Stella.
On the other hand, there are many anglers that love the smoothness and functionality of Stella. Personal preferences play a huge role when you're considering these spinning reel options. In terms of specifications and build quality, both Daiwa Exist and Shimano Stella are pretty close. You can't really go wrong with either one of these options, and they will fit perfectly in your fishing setup.
A few advantages of Daiwa Exist that some anglers have pointed out is that this pinning reel is lighter and beginner-friendly. It suits the FC lines better, and you can easily manage the bail trip unit to get the desired performance. On top of that, the difference in quality between Daiwa and Shimano spinning reels is not substantial enough o impact your purchase decision.
All in all, Daiwa Exist is a solid spinning reel that a ton of anglers across the nation use. Even though the proportion of Shimano Stella users is more than Daiwa Exist, users seem to be in love with this unit. It brings complete functionality to your fishing set up with a better price tag, and you won't have to cross the thousand-dollar threshold to get this spinning reel for your fishing setup.
Shimano Stella
In terms of popularity, the Shimano Stella is definitely one of the more preferred options for users across the nation. This spinning reel brings exceptional utility to your setup, but some users can't seem to justify the thousand-dollar price tag on this spinning reel. So, if you're looking for something within the 1000-dollar price range, then Shimano Stella might not be such a good option for you. You'll be better off with Daiwa Exist at around 800 dollars price tag.
While many people believe that the Shimano Stella is far better than Daiwa Exist, that is not actually the case for these models. It is true that there is a minimal difference in build quality and functionality, but the difference is not substantial enough to spend three hundred dollars extra on Shimano Stella.
Daiwa did an exceptional job with the Daiwa Exist spinning reel, and they made sure that it was second to none in terms of functionality. With that said, many users did say that Stella is more durable and will last you for a few more years. On top of that, the customer support from this brand is superior to Daiwa. So, if the quality is the only concern for you and you don't mind spending a few hundred dollars extra for Stella, then it will suit your setup perfectly.
All in all, Stella is a superior spinning reel that brings many functionality benefits to your setup. It perfectly matches the fishing requirements for experts across the nation. The only downside to this spinning reel is that it is more expensive than the Daiwa exist, and users have a hard time justifying the additional payment of three hundred dollars. So, you'll need to make the final decision based on your budget and quality requirements.